Laptops
Best 240Hz Laptops To Buy In 2023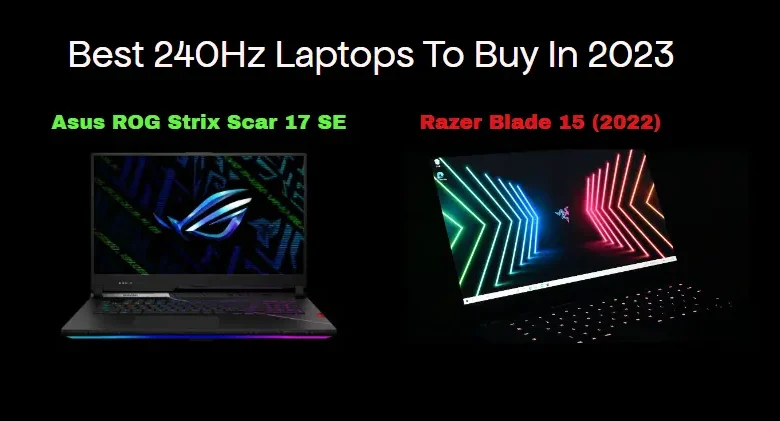 Welcome to our guide on the best 240Hz laptops to buy in 2023.
With the advancement of technology, high-refresh-rate laptops are becoming more and more popular among gamers and professionals alike.
A 240Hz refresh rate means that the screen can display up to 240 frames per second, resulting in smoother visuals and an overall better viewing experience.
In this guide, we will be taking a look at some of the top 240Hz laptops currently on the market and discussing their features, specs, and performance.
Whether you're a gamer looking for a high-performance laptop or a professional in need of a powerful device for work, this guide has got you covered.
One of the best laptops for gaming or other works like graphic designing in the lineup is Razer Blade 15.
Razer is well known for its unique designs and performance as well.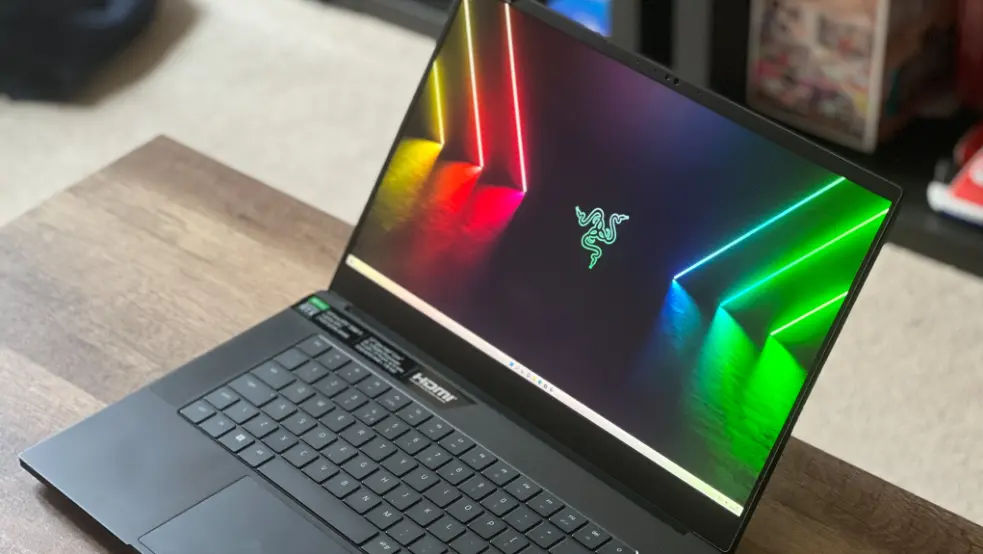 The design of the Razer Blade 15 is astonishing. We can see how slim is this laptop. The weight of this is not so much. You can easily carry this machine anywhere you want.
The screen of this monster laptop is almost bezel-less. If we see there are almost very small bezels that are very easy to ignore.
The thin aluminum design of this device can make you fall in love with it. The keyboard contains fascinating RGB lights that are powered by Razer Chroma. In a single zone, more than 16 million colors can be selected at a single time.
You can also choose a static color or any cycle according to your needs for the keyboard.
If we talk a little bit about the trackpad of this machine. The pad of this laptop acquires a large space than the simple laptops. However, it provides you with a smooth experience whether you are playing games or doing any of your work.
It has three different variants regarding the refresh rate which are 360Hz of refresh rate at FHD Display, 240Hz at QHD, and 144Hz at UHD.
If we discuss the price of this laptop, definitely it is not going to be cheap. It costs about $2499.99 with RTX 3060 configuration. You can buy it from Amazon and Razer's Official Page. 
Now it is time to discuss the specifications of this beast.
| | |
| --- | --- |
| CPU | i7-12800H i9-12900H |
| GPU | RTX 3060 RTX 3070 Ti RTX 3080 Ti |
| RAM | 16GB 32GB |
| STORAGE | 1TB SSD |
| DISPLAY | FHD at 360Hz QHD at 240Hz UHD at 144Hz |
| PORTS | 3x USB-A Gen 2 USB-C / Thunderbolt 4 USB-C 3.5mm audio jack SD card slot HDMI |
| PROS | + Cutting edge components+ Unique and sleek design+ Solid build quality+ Amazing color contrast |
| CONS | Proprietary charging connection |
Razer Blade 15 Specs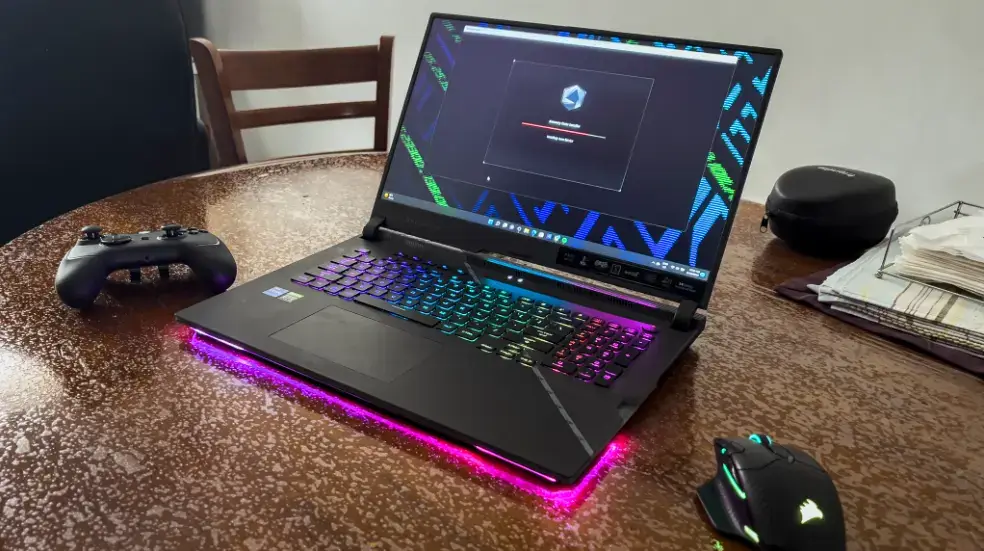 One of the fastest laptops ever tested in the market is Asus ROG Strix Scar 17 SE. If you are looking for speed and better performance Strix Scar 17 SE is here for you.
As it is packed with all the premium components that can play brilliant roles in providing extreme-level performance.
Its 16-core CPU will reveal the true power of this laptop. It can do almost every task you want.
Everything in Scar 17 SE is designed in a way that it can take its performance to the highest possible level.
Also Read: Best Alienware aka Nware 17in Laptops for Gaming
Its newly designed and improved vapor chamber provides you with a cooler and a completely quiet experience. This is the quietest laptop we have ever tested. Its cooling fans are so quiet and good that they make no noise and almost keep the system cool every time.
Likewise, its trackpad also works very well. It can provide you with a buttery smooth experience.
You have two choices of displays here, whether can choose FHD 360Hz/3ms or can go with QHD 240Hz/3ms. The first one suits serious gamers very well. The other one is for us people who do productive work all day.
We can take a notice of its speed as it has bombastic read speeds of 7000MBs. This is a truly amazing speed for a laptop machine like this.
You can buy it from Amazon and Asus eStore for $3499. It will be a little bit costlier at eStore, you can also get it from Amazon at a discounted price.
| | |
| --- | --- |
| CPU | i9-12950HX |
| GPU | RTX 3070 Ti RTX 3080 Ti |
| RAM | 16GB 32GB |
| STORAGE | 2TB SSD4TB SSD |
| DISPLAY | FHD at 360Hz QHD at 240Hz |
| PORTS | 3.5mm Combo Audio Jack HDMI 2.1 2 x USB 3.2 Gen 1 Type-A USB 3.2 Gen 2 Type-C RJ45 LAN port Thunderbolt 4 (supports DisplayPort) |
| PROS | + Perfect gaming experience+ Satisfying gamer aesthetics+ Fascinating RGB performance+ Works very cool under burden |
| CONS | No webcamWeak battery life |
Asus ROG Strix Scar 17 SE Specs
All in all
Razer Blade 15 and the Asus ROG Strix Scar 17 SE are both top-of-the-line laptops that offer cutting edge components and unique designs.
The Razer Blade 15 boasts a slim, lightweight design and an impressive RGB keyboard, while the Strix Scar 17 SE offers 16-core CPU and bombastic read speeds of 7000MBs.
Both laptops have their own set of pros and cons, with the Razer Blade 15 being slightly more affordable and the Strix Scar 17 SE offering more storage options.
Ultimately, the decision will come down to personal preference and specific needs.
All of these laptops are highly recommended for gamers and professionals in need of powerful, high-performance machines.