Reviews
Pepecoin Outperforms It's Top Competitors in Social Engagement
For one to win free pepe coin, the RollerCoin mining simulator game is a good place to start. RollerCoin is a next-generation game that enables players to mine free cryptocurrencies such as PEPE, which currently has the highest crypto ranks in social engagement.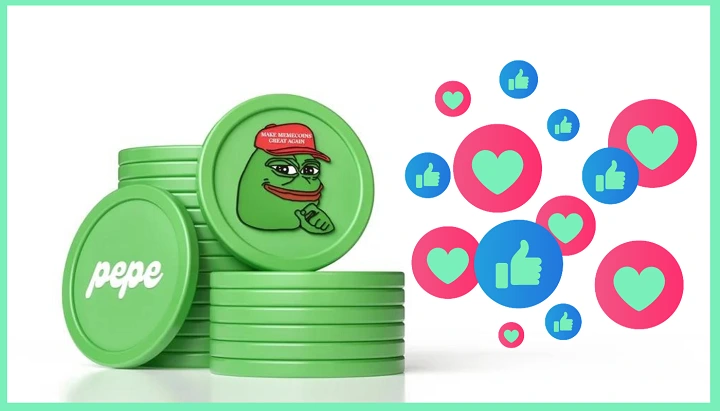 Growing Pepecoin Popularity
New data from LunarCrush shows that Pepecoin's popularity is well-positioned in terms of social engagement compared with its meme counterparts.
This comes following months of sensational price movements across meme coin markets, which has resulted in several hundreds of millions pumping into the project.
According to LunarCrush, Pepecoin generated higher social engagement than Shiba Inu. The altcoin came at position #1, with Bitcoin (BTC) coming second in social activity.
Shiba Inu, which faced spectacular social activity in 2022, came at position 7, per the LunarCrush AltRank. In point of fact, mentions and debate surrounding PEPE rose significantly in May 2023 after an Elon Musk tweet. As a result, PEPE surged to approximately $0.000001732.
LunarCrush's AltRank is a crypto markets analysis tool for evaluating a coin's community and traction. The tool has its own native altcoin, Altrank, which ranks at position 671 out of 4389 coins.
According to the platform's Twitter page, the tool analyzes some of the top metrics that qualify a coin among the leading 25 rankings. These metrics make it easy for investors to assess quality crypto investments, for instance, market volume rank, percentage change vs.
Bitcoin rank, social volume rank, and social score rank. Likes, comments, retweets, and bookmarking were other indicators influencing the tools. In addition, the ranking tool said it assessed influential accounts following the Pepe coin pages.
Some of the influencing factors that could be driving the high social engagement include price movements, profits from retail traders, and Gemini Exchange's distribution campaign of 1,000,000,000+ PEPE tokens to a lucky trader.
According to past news, Gemini Exchange announced an airdrop of 1B Pepecoins to mark the listing of the memecoin.
Eligibility for the promotion only required retweeting Gemini's announcement of the airdrop. According to observers, the announcement of the promotion fueled a frenzy and attracted more traders to the PEPE coin.
In the past few months, several leading cryptocurrency influencers have endorsed the meme coin project. These include SlumDOGE Millionaire, BSC Gems Alert, Ash Crypto, Crypto Rover, and David Gokhshtein.
Since LunarCrush determines the dominance of a crypto project on social media, influencer mentions are vital in the analysis. The ranking tool compares its social dominance to market dominance ranking, i.e., dividing the coin's market by the overall crypto market.
However, for social dominance, the tool divides the coin's social volume by the overall crypto market social volume.
Pepecoin Surpasses Bitcoin and Ethereum
Pepecoin surpasses Bitcoin in not only social activity but also the weekend's trading volume improvements. Let's evaluate those numbers in the section below:
Pepecoin jumped 10%+ during the Sep 23rd – Sep 25th weekend despite the overall cryptocurrency market cap suffering a downturn.
Meanwhile, several other meme coins recorded an upward surge in trading volume, including Shiba Inu recording a 0.97% and Dogecoin remaining stable at $0.0616.
However, major coins like Bitcoin and Ethereum recorded a downturn in their trading volume. BTC dropped by 0.33%, while ETH dropped by 0.70%.
For Pepe, its daily trading volume on Saturday, 23rd, rose by a whopping 377.58% and hit $152.74 million.
PEPE's rising popularity over the last months is an interesting case study for learning how a meme coin creates, pumps, and retains value.
Active community members, daily engagement, awareness campaigns, influencers, and impressions are some of the indicators known to increase investor interest in a meme coin.
However, beyond the cultural hype and community around a meme coin, they usually lack a fundamental appeal for retaining value.
Thus attracting the majority of people who are looking to profit from a market pump or a bull run.
Buying presales and selling at launch is also another method for making money from meme coins.
However, crypto investors highly discourage selling immediately after the launch due to the action's dampening effect. For this reason, most majorities prefer to hold (hold on to dear life) or even stake.
A good narrative around presales and staking is the recent Wall Street Memes (WSM), which has sold approximately 1 billion $WSM tokens.
According to the project's website, buyers have staked a quarter of the 1 billion tokens, thereby showing their faith in the project. Investors who stake indicate their long-term faith in the project and are a bullish indicator for any crypto project.
Memecoin fans who would love to get Pepecoin for free can join the RollerCoin program. Unlike Gemini, RollerCoin isn't awarding free cryptocurrency to a single lucky winner but to multiple gamers.
One only needs to install the RollerCoin mining simulator to mine free cryptocurrencies, including PEPE, Bitcoin, Ethereum, Litecoin, Shiba Inu, Dogecoin, and a myriad of other coins.