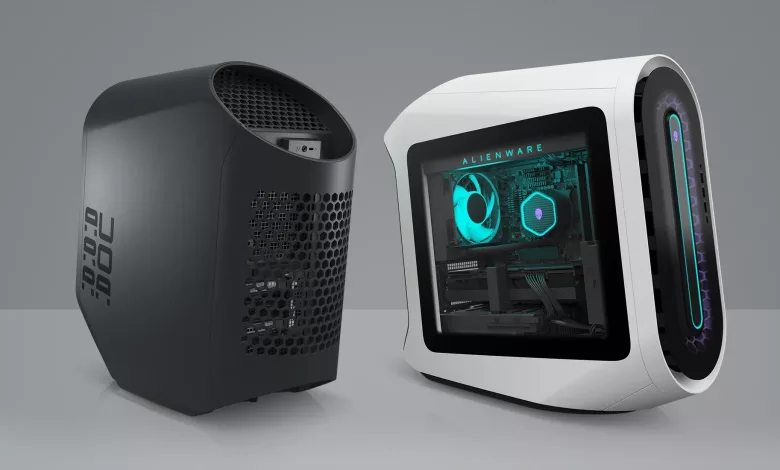 Quick Review
Alienware Aurora 2019 is a powerhouse gaming PC that offers top-tier performance with its 9th Gen Intel Core i7 processor and NVIDIA GeForce RTX 2070 graphics card. Its sleek design, extensive upgradability options, and excellent cooling system make it a reliable choice for gamers looking for a high-performance gaming machine.
High-end gaming performance
Sleek alien-themed design
Customizable RGB lighting
Low fan noise
Excellent cooling performance
Only 2 USB-C ports
Pricey for budget shoppers
Alienware Aurora 2019 – Detailed Review
Are you looking for a powerful gaming PC that will give you an edge in your favorite games?
If so, the Alienware Aurora 2019 is worth checking out.
This model from Dell's game-focused subsidiary offers plenty of power and features to make sure that no matter what type of game you're playing, it'll be running at its best.
In this review, we'll take a closer look at all the features, specs, and prices included with the Alienware Aurora 2019 to help you decide if it's right for you.
Alienware Aurora 2019 Specifications
Category
Specification
Processor
9th generation Intel Core i7-9700
Graphics Card
NVIDIA GeForce RTX 2070 8GB GDDR6
RAM
16GB DDR4 (2×8)
3200 MHz
8GB GDDR6 VRAM (Additional)
Storage
1TB M2 solid-state drive
Chassis
Upgraded design with better air circulation
Cooling System
Liquid cooling for CPU
Connectivity
2 USB 3.1 Type-C Ports
6 USB 3.1 Type-A Ports
6 USB 3.0 Type-A Ports
HDMI Port
DisplayPort
Ethernet Port
Wifi 6.0
Bluetooth 5.0
Upgradability
Tool-less design
Room for expansion
Software
Alienware Command Center
Alienware Control Center
Alienware Mobile Connect app
Price (Base Model)
$1,549
Design & Build Quality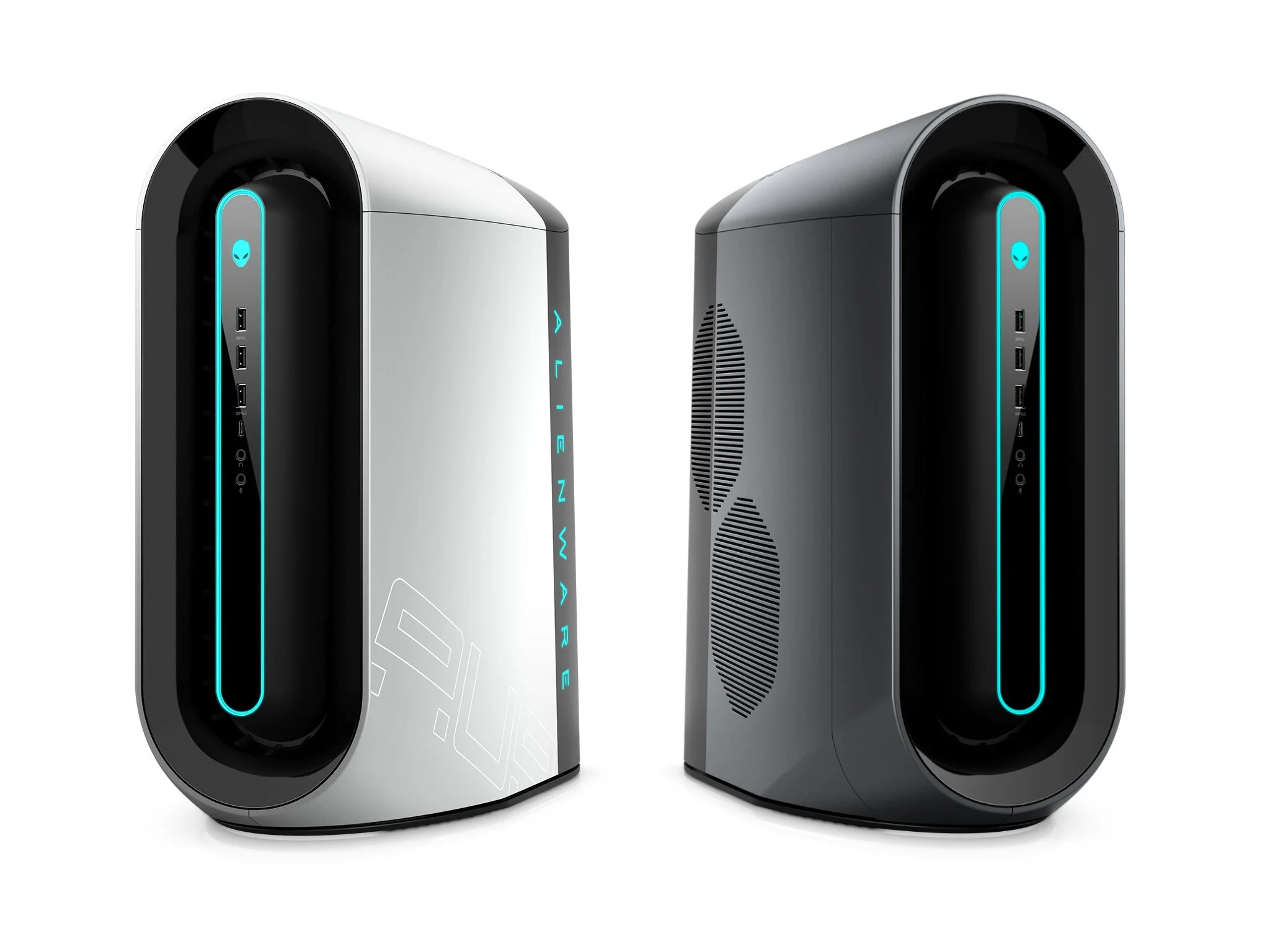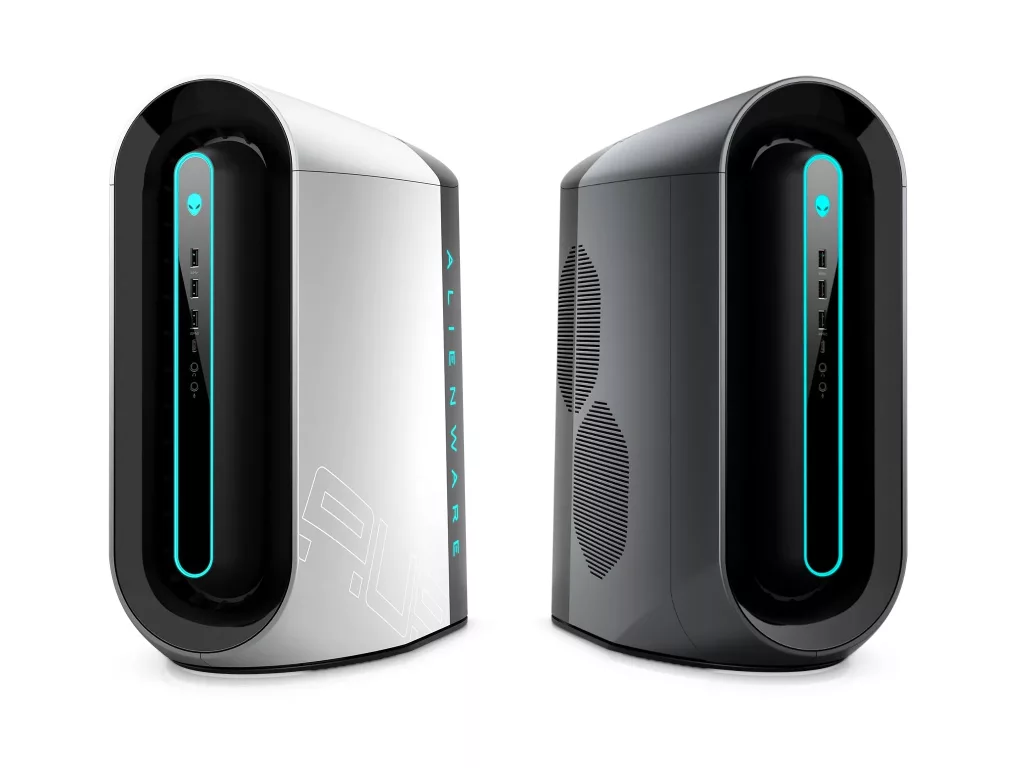 The Alienware Aurora 2019 has a sleek and modern design that stands out from other gaming PCs. It features a black chassis with the iconic alien head logo on top, as well as two bright RGB LED fans with seven different lighting modes.
The case is made of durable materials for long-term reliability, and it's also surprisingly lightweight at under 25 lbs. It's an attractive and functional piece of hardware that's sure to be a conversation starter in any gaming setup.
One of the most impressive aspects of the Aurora 2019's design is its compact size. Despite packing in powerful hardware, it is surprisingly small and can fit on most desks without taking up too much space. The compact size also makes it easy to transport to LAN parties or other gaming events.
Performance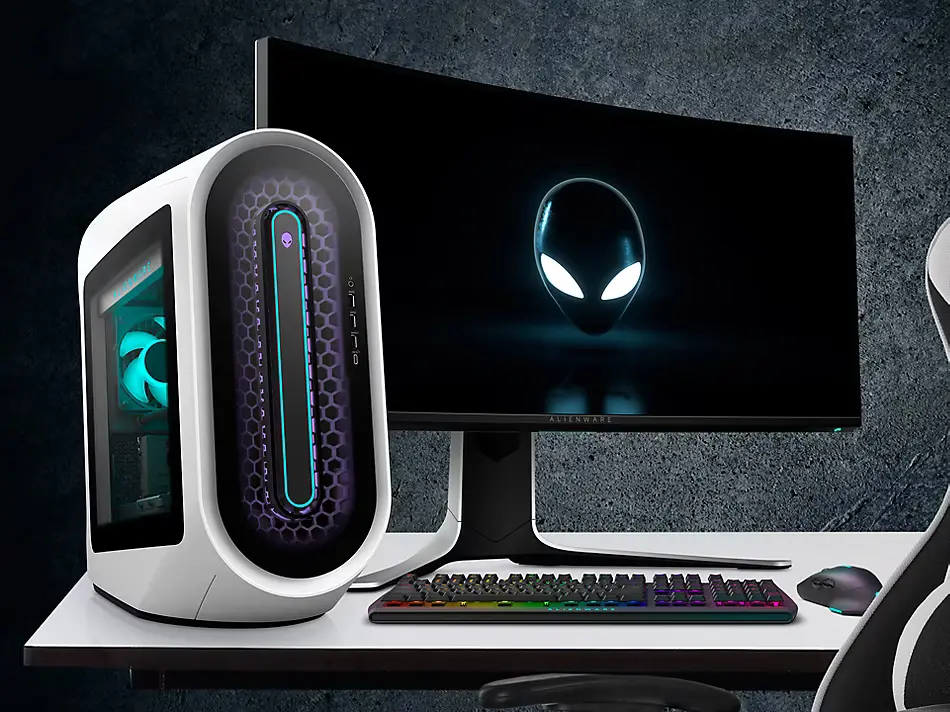 This PC is an absolute powerhouse when it comes to gaming performance.
With its 9th Gen Intel Core i7 processor and NVIDIA GeForce RTX 2070 graphics card, you can easily run the latest AAA games at high settings.
The 16GB of DDR4 RAM also ensures that multitasking won't be a problem, even with multiple programs running in the background.
The included 1TB M2 SSD also provides lightning-fast response times for everything from boot-up times to game-loading screens.
In short, it has the power to handle anything you throw at it and then some.
Graphics
Alienware Aurora 2019 comes with an NVIDIA GeForce RTX 2070 graphics card, which is the most powerful option available in this model.
It's capable of running any game you throw at it on high settings and also supports features like ray tracing, variable rate shading, and DLSS for even greater visuals and performance. Additionally, its 8GB of GDDR6 VRAM allows for 4K resolution gaming, making this the perfect PC for high-res gaming.
Also Read: MSI Gaming GS63 Stealth RE Laptop Review
Gaming Experience
Alienware Aurora 2019 also offers a great gaming experience with its extensive customization options.
Alienware Command Center software lets you adjust lighting, fan speed, network settings and more for your personalized gaming experience.
You can also use the Game Mode app to optimize game performance, ensuring that each game runs at its best.
Moreover, the RGB fans provide seven different lighting modes to add some extra atmosphere to your gaming setup.
Port & Connectivity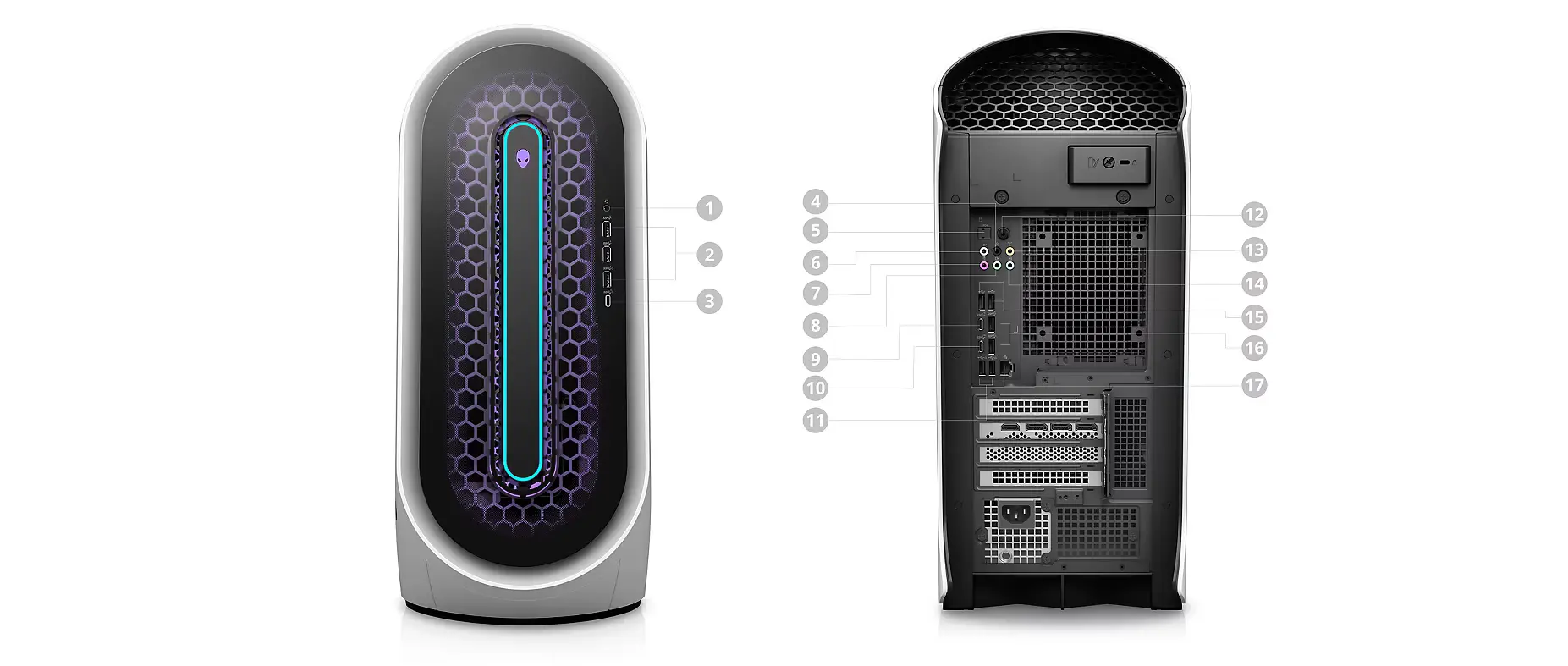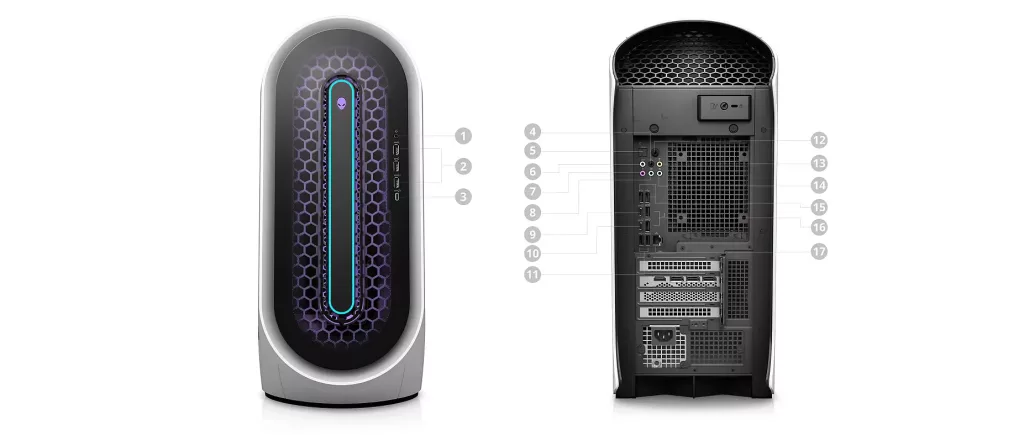 It also offers plenty of connectivity options to help you get connected.
On the front of the tower, you'll find two USB 3.1 Type-A ports, a USB 3.1 Type-C port, a microphone jack, and a headphone jack. This location is convenient for plugging in peripherals such as a gaming mouse, keyboard, or headset.
On the rear of the tower, you'll find even more ports, including six USB 2.0 Type-A ports, four USB 3.1 Type-A ports, a USB 3.1 Type-C port, an Ethernet port, DisplayPort, and HDMI to connect your gaming monitor.
It also includes dual-band Wi-Fi 6.0 and Bluetooth 5.0.
Cooling & Noise Levels

The Alienware Aurora 2019 also offers excellent cooling performance thanks to thermal control, optimal overclocking, and enhanced AlienFX software.
It stays cool even during intense gaming sessions, and the fan noise is barely noticeable.
It has a liquid cooling system for the CPU, which helps keep the temperature low and the noise level down.
The liquid cooling system is efficient and effective, ensuring your CPU stays cool even during the most demanding gaming sessions.
You can also use the Command Center software to adjust fan speed if needed. It includes a range of fan speed settings that can be adjusted to suit your needs.
Lower fan speeds produce less noise but potentially lead to higher temperatures. Higher fan speeds provide more cooling power but at the expense of higher noise levels.
It's up to you to find the right balance between cooling and noise levels that suits your preferences.
If you need help with thermal issues or overheating on your PC, check out this comprehensive troubleshooting guide provided by Dell.
Upgradability
This gaming computer is also highly upgradeable, giving you the option to add more power and performance as compared to the Alienware gaming laptops.
It has a tool-less design, which means you can easily open the case and swap out components without needing any special tools. This makes upgrading your RAM, hard drive, or graphics card a breeze.
Moreover, the Aurora 2019 has plenty of room for expansion. It has three PCIe x16 slots, which means you can install up to three graphics cards if you want to. It also has four DIMM slots, which means you can upgrade your RAM to a maximum of 64GB.
Software and User Interface
It comes with Windows 10 operating system and some pre-installed useful software.
You get the Command Center app for easy access to settings and customization options, as well as the Game Mode app which can help optimize your gaming experience.
The user interface is intuitive and easy to navigate, making it a breeze to tweak settings or adjust performance levels.
Performance Test Results
In our hands-on tests, the Alienware Aurora 2019 performed exceptionally well. It booted up quickly and even ran cross-platform games smoothly, with no stuttering or lag. We tested the following games on this PC.
Pubg
Call of Duty: Modern Warfare
Far Cry 5
The Witcher 3: Wild Hunt
Battlefield V
Even at high settings, the graphics were clear and crisp, and ray tracing support gave impressive visuals.
After 6 hours of continuous play, we encountered a minor heating issue, but it was quickly resolved by adjusting the fan settings in the Command Center
This PC successfully passed all three benchmark tests we applied, including CPU-Z, Fraps, and PCMark, demonstrating its outstanding performance.
We also tested its upgradability by adding more RAM and storage, which ran without any issues. Overall, this PC provided top-notch performance for an excellent gaming experience.
More Like This: Asus 2-in-1 q535 Review: All You Need to Know
User Reviews & Rating
The Alienware Aurora 2019 has been well-received by users, with many praising its design and performance.
Several users have commented that it is the perfect machine for gaming, offering great visuals, fast loading times, and plenty of customization options.
There have also been reports of excellent customer service from Alienware's team.
Based on 2564 user reviews on Dell's official website, this PC has received an impressive overall rating of 4.4 out of 5, indicating high levels of satisfaction among users.


A user recommended this PC as "Superior computer for the ultimate gamers!"
Hands down, this has been the best desktop computer that I have ever owned! I will never buy anything other than Alienware for my gaming needs again!


Alienware Aurora 2019 Price
The Alienware Aurora 2019 is priced at around $1,549 USD, making it an excellent value for money. You get top-of-the-line performance with plenty of upgradability options to boot.
Here's a quick breakdown of the prices, based on the configurations available
| | |
| --- | --- |
| Configuration | Price |
| Base Model | $1,549 |
| Mid-Range Model | $1,999 |
| High-End Model | $2,599 |
Availability
It's important to note that the Alienware Aurora 2019 is no longer being sold by Dell, the parent company of Alienware. However, you can buy this device through third-party retailers such as Amazon.
Final Verdict
The Alienware Aurora 2019 is an excellent gaming PC that offers top-of-the-line performance with plenty of upgrade options.
The sleek alien-themed design and customizable RGB lighting make it a great addition to any gaming setup, while the low fan noise ensures that your gaming sessions won't be interrupted by loud fans.
Around $2,000 USD, it's definitely pricey for budget shoppers but offers excellent value for money when compared to other gaming PCs in its price range.
All things considered, this gaming beast is an excellent choice for serious gamers looking for a powerful and reliable machine.
FAQ
Is the Alienware Aurora any good?
Yes, the Alienware Aurora 2019 is an excellent gaming PC that offers top-of-the-line performance and plenty of upgradability options. The excellent alien-themed design and customizable RGB fans make it a great addition to any gaming setup, while the low fan noise ensures your gaming sessions won't be interrupted.
Why is my Alienware Aurora so slow?
If your Alienware Aurora is running slow, it may be due to insufficient RAM or a low-end graphics card. You can easily upgrade both of these components for improved performance. You should check that all the fans are working properly and reset the thermal paste if needed.
Can I upgrade my Alienware Aurora 2019?
Yes, the PC is highly upgradeable. You can easily swap out components like RAM or storage for improved performance. You can also upgrade the graphics card and other features to get even better performance.
What is the warranty on an Alienware Aurora?
The Aurora 2019 comes with a 1-year limited hardware warranty from the manufacturer. You can purchase extended warranties for extra coverage.
How much RAM does Alienware Aurora have?
It comes with up to 16GB of RAM and can be upgraded further if needed.