SEO
11 Tips for Effective E-Commerce SEO in 2023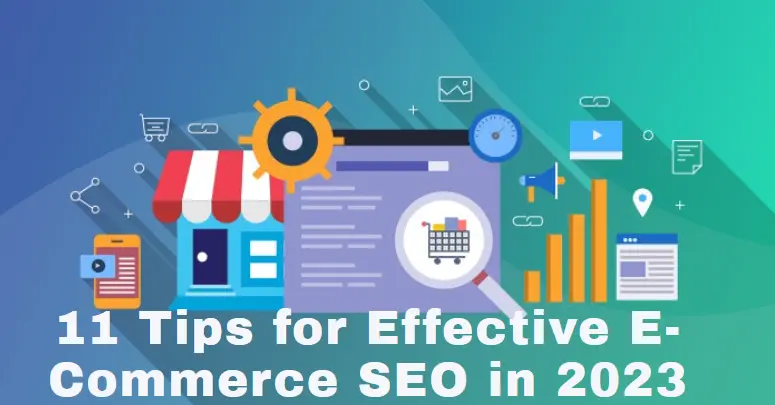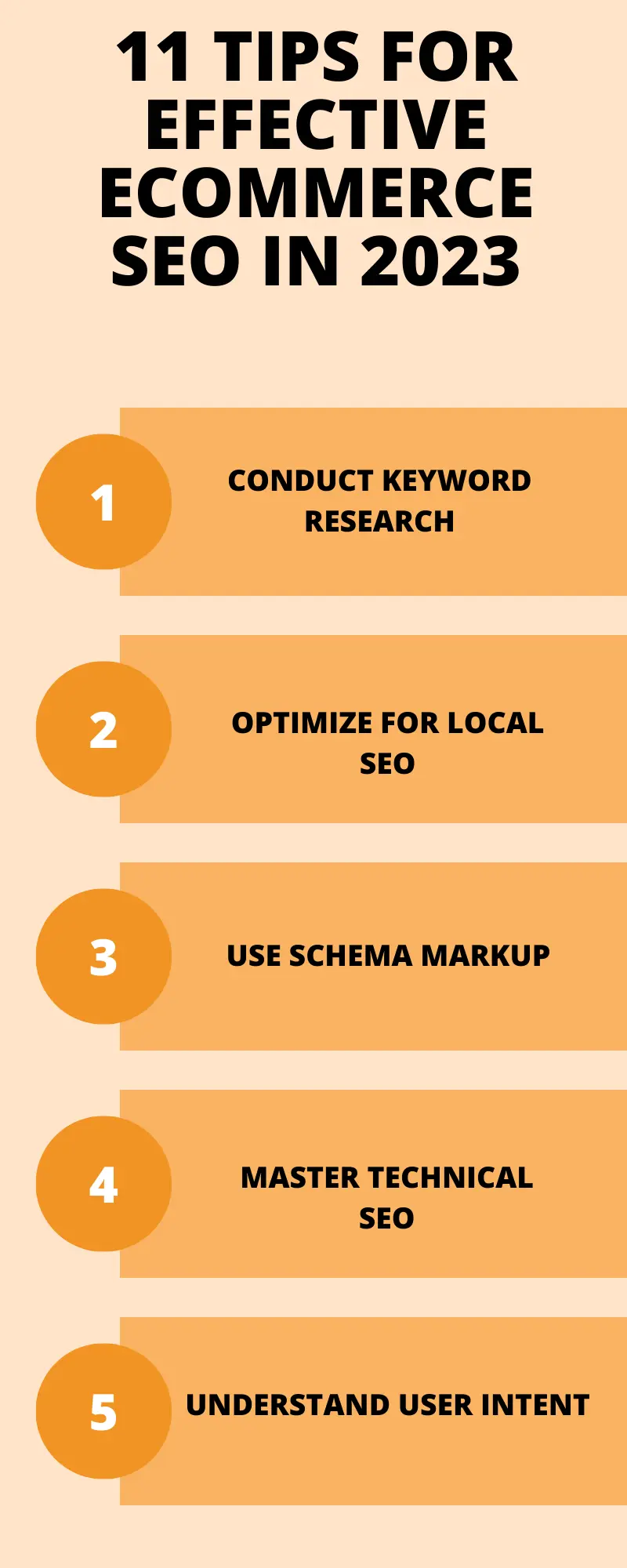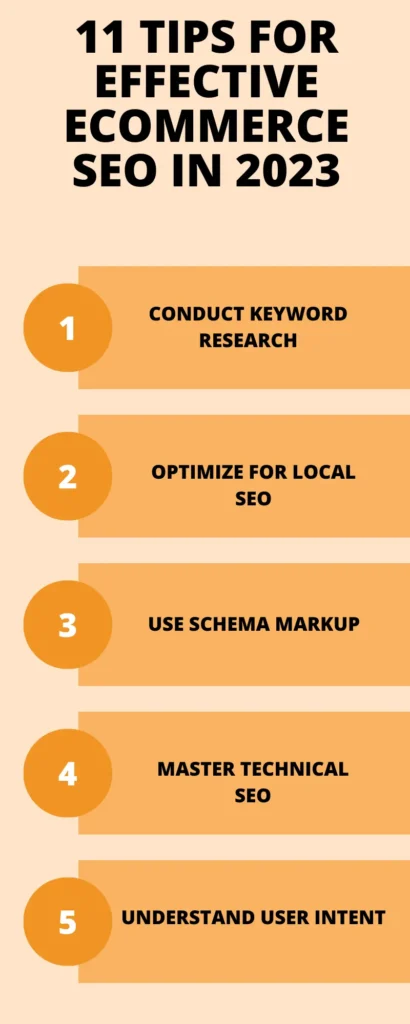 As the world of online shopping continues to grow and evolve, it's more important than ever for e-commerce businesses to have a strong SEO strategy in place.
With the right tactics, you can increase your visibility in search engine results, drive more traffic to your website, and ultimately, boost sales and revenue. In this guide, we will share with you some of the top strategies and techniques that you can use to improve your e-commerce SEO in the coming year.
From keyword research and local optimization to technical audits and link building, we've got you covered. Follow these 11 tips for effective e-commerce SEO to help your business stand out in a crowded online marketplace.
1. Conduct Keyword Research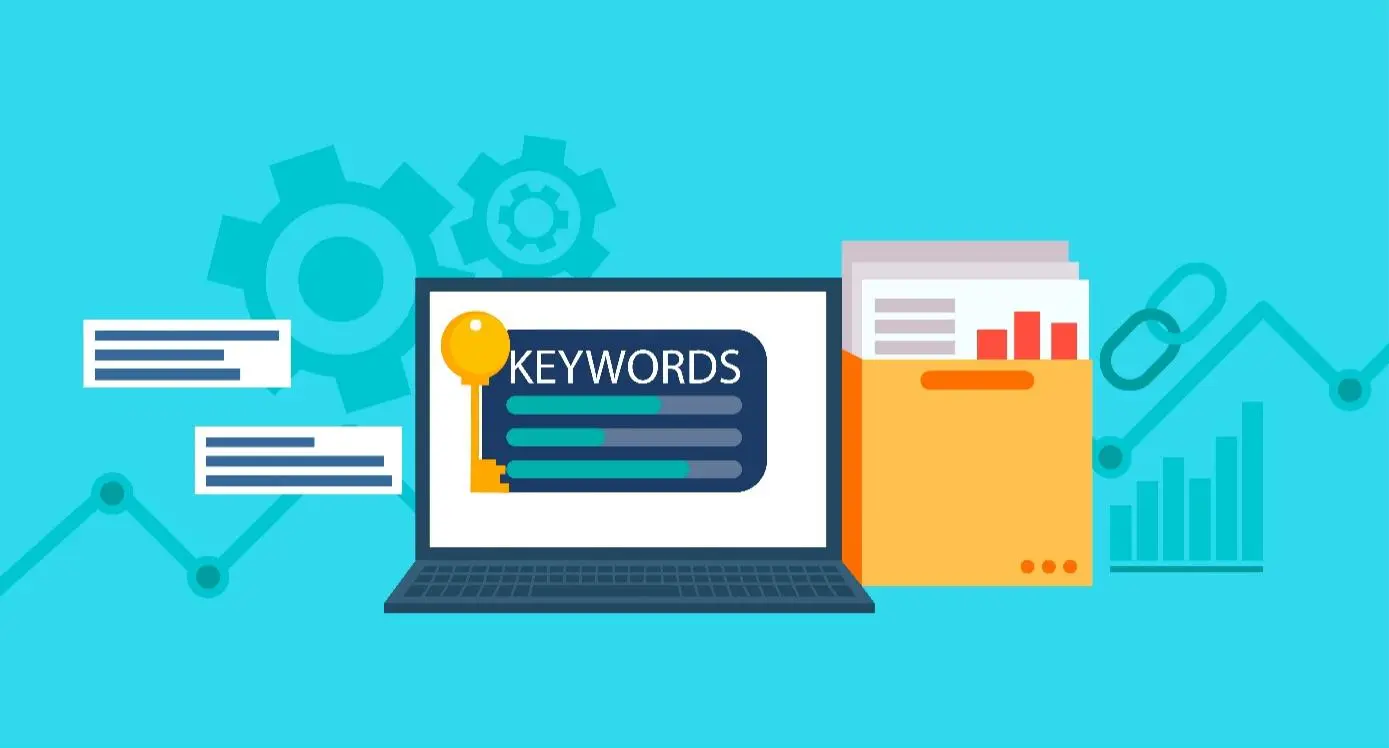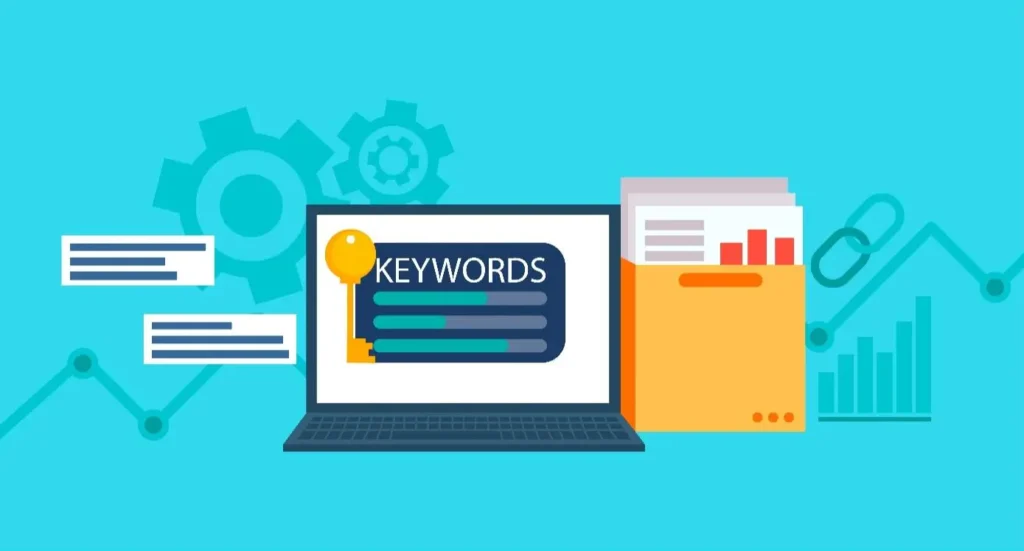 Keyword research is the foundation of any successful e-commerce SEO strategy.
It's also one of the most important parts of your overall content strategy because it will help you develop an understanding of what people are looking for when they visit your site and how to provide that information in an engaging way.
In order to do keyword research effectively, you need two tools: SEMrush and Google AdWords Keyword Planner (GKP).
You can use either tool alone; however, both have their own strengths and weaknesses so it's best to use both as part of a comprehensive plan.
SEMrush has many features including competitive analysis data on over 1 million keywords across 15 industries worldwide including retail, travel & hospitality, and more, making it an invaluable tool for identifying opportunities or areas where improvements might be made.
2. Optimize for Local SEO
Local SEO is the practice of optimizing your website for users who are physically near your business. You can achieve this by creating an effective mobile website, including apps and local content.
It's important because it helps you rank higher in Google searches for local terms that people may use when searching for businesses nearby: things like "restaurant near me" or "plumber in my neighborhood."
If you have a physical location and aren't doing much online marketing, it's time to start!
3. Use Schema Markup
Schema markup is a way to tell search engines what your content is about. It helps search engines understand your content, which can help you rank better in search results and improve the user experience for users who are searching for that information.
Since schema markup gives hints about what content on your site should be indexed by Google and other search engines, it's important that you use it correctly.
The best way to do this is through HTML5 with microdata (or HTML5-microdata).
In short: microdata allows you to create rich snippets that describe each piece of information on your site.
When someone clicks on one of those snippets, they see all relevant information at once rather than having to click multiple times to get details about each item before finding anything useful at all!
4. Master Technical SEO
Be prepared to invest time and money in technical SEO.
Use a skilled technical audit to find the issues that need fixing.
Fixing technical SEO issues requires more than just providing fixes, it also requires measuring their impact on traffic and conversions.
5. Link internally (but use caution)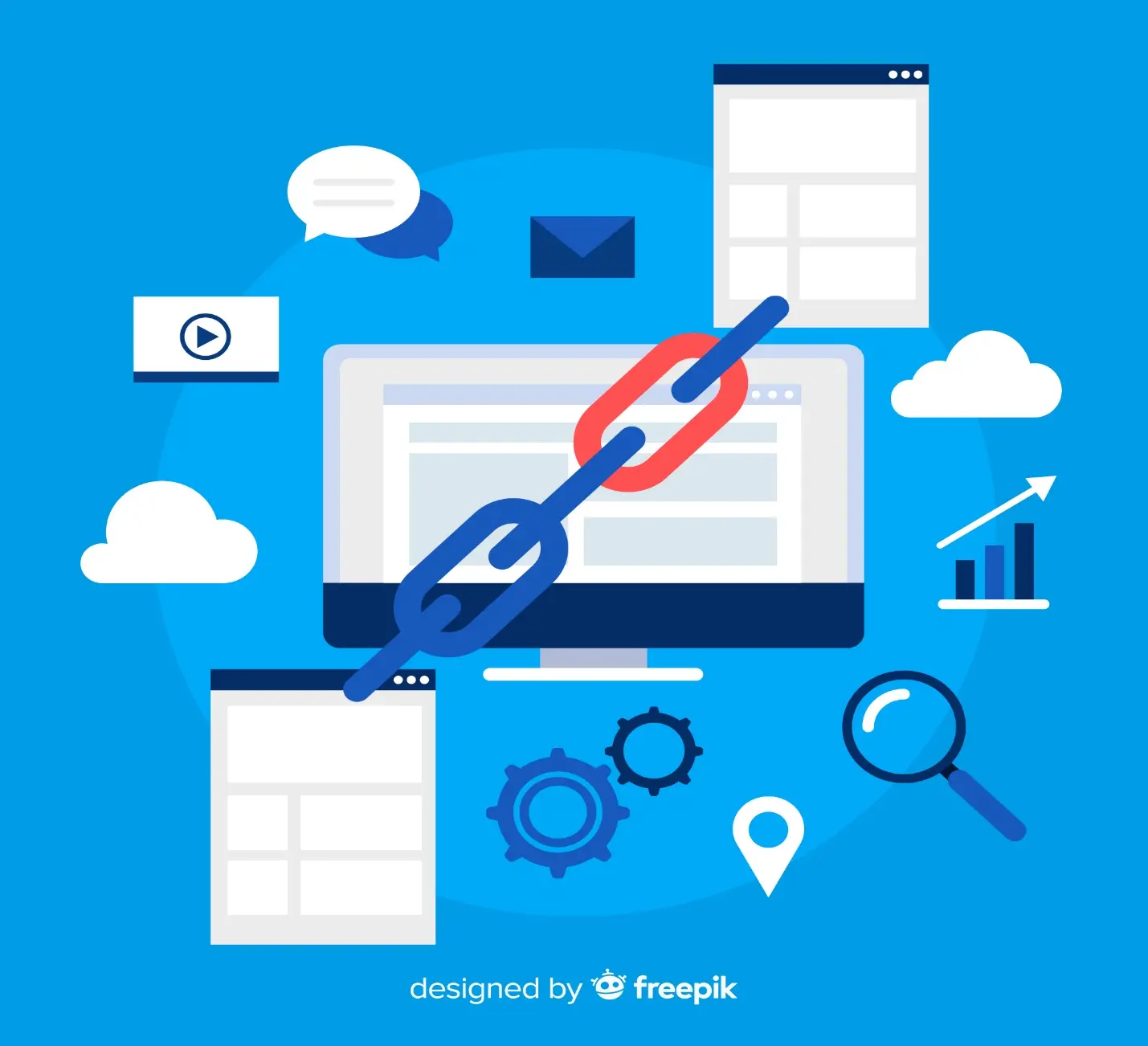 Link to your internal pages. Internal links are great for helping search engines know what you have to offer, but they should be used carefully.
If a page is not directly related to the page you're currently on and it's not a 404-error page (see below), don't link it!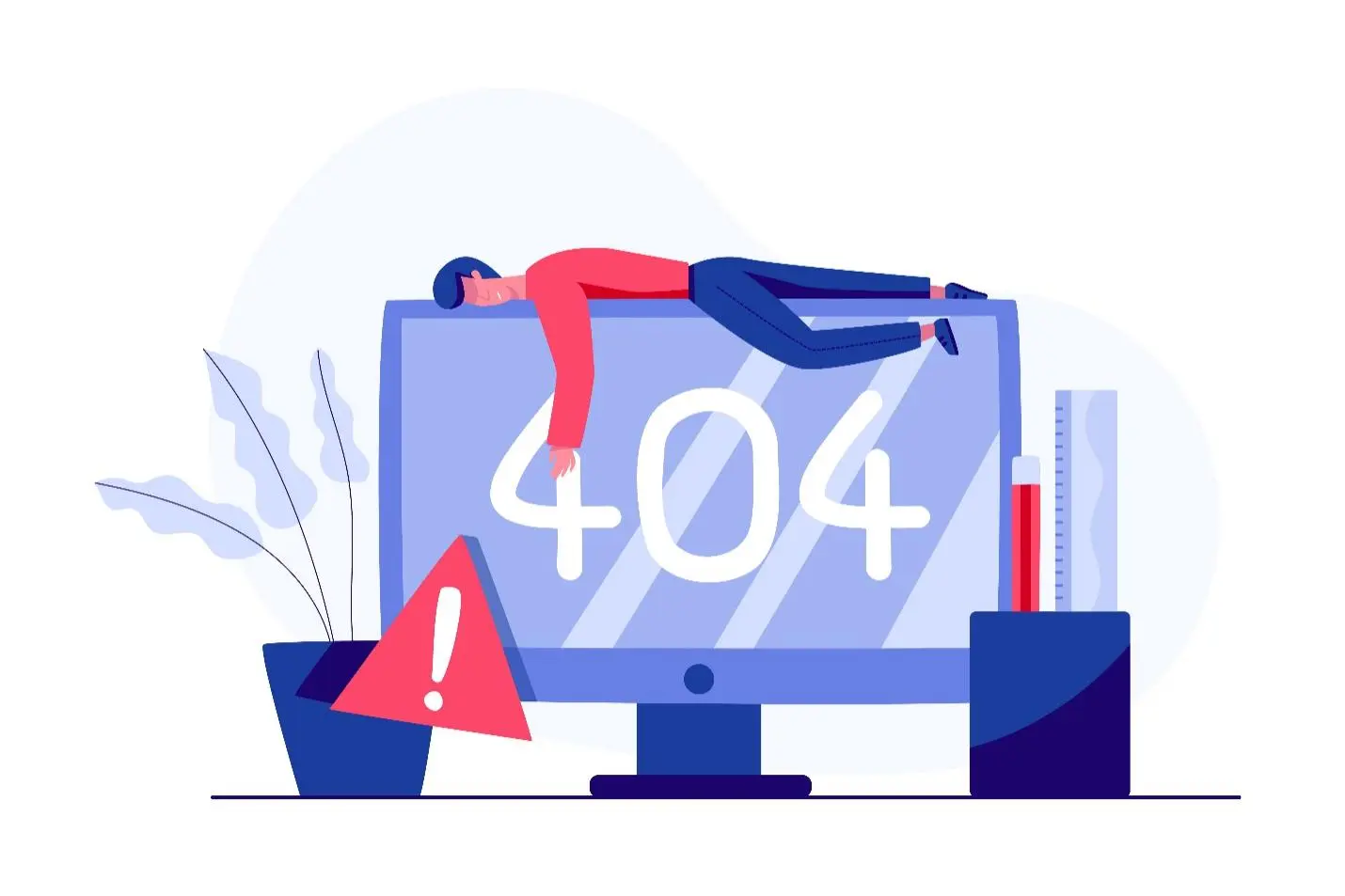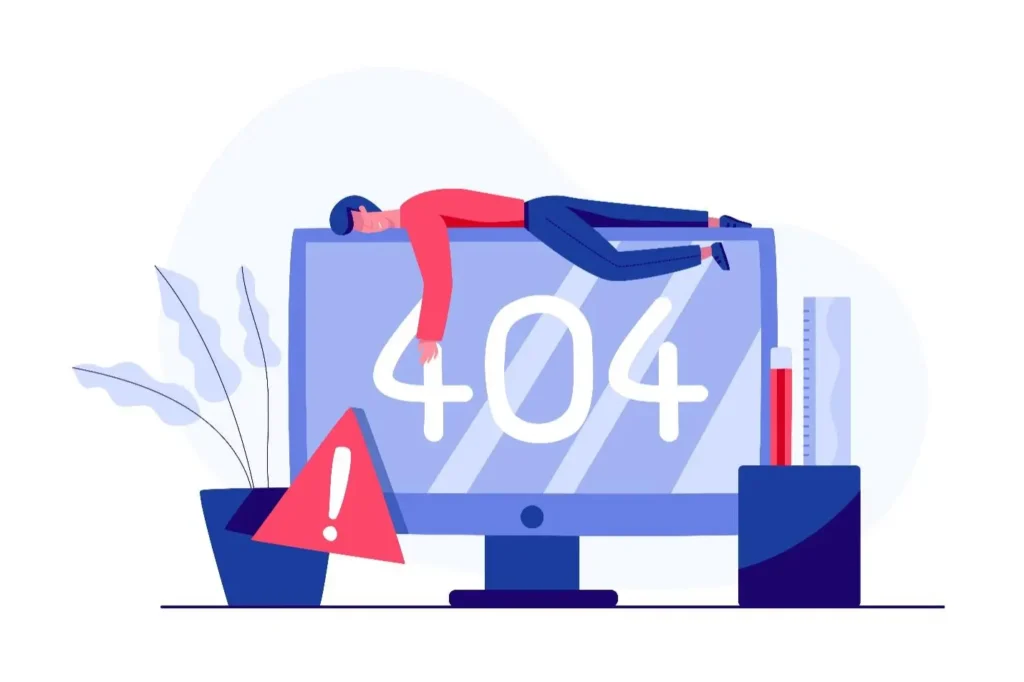 Instead of linking directly to an internal page or post, use phrases like "click here" or "learn more."
These phrases will help searchers navigate around your site without having to leave their current location just yet.
They'll also send them back into what they were looking at before landing on this particular section of yours.
6. Understand User Intent
Understanding user intent is one of the first steps in creating a successful e-commerce site. It's important to understand what your customers want to do on your site and how they will interact with it.
In order for you to create content that meets their needs, it's important that you know what they're looking for before they even think about searching for something on Google or Facebook.
Your job as an e-commerce marketer is not only selling products but also providing value-added services like customer support and product reviews. These services help attract new customers who are looking for exactly what you have available at competitive prices.
7. Use Videos on Product Pages
Videos are a great way to explain products and services. They can help with conversion rates, SEO, brand awareness, social media, and customer service.
Make sure you showcase the best bits of the product. You could do this by make a video collage, or even consider converting images to videos to make it a bit more creative rather than a simple video.
Using collage templates could help you to speed up the process.
You should also make sure your videos are high quality so people will watch them longer than just reading text on a web page or reading an email newsletter!
8. Offer Shoppers a Great Mobile Experience
Whether you're an e-commerce store or not, it's important to make your site easy to navigate on a phone
If people can't find what they need quickly and easily when they're browsing from their phones, then why would they bother coming back, right?
Make sure that everything on your website is easy enough for them to access without having to click anything twice or scroll all the way down the page.
Use SEO-friendly website builders such as Shopify, Wix, or Squarespace. Choosing the right platform is key to doing effective SEO for your online store.
Don't forget about responsive design! By using responsive design in conjunction with SEO strategies like title tags, meta descriptions, and alt text (for images), search engines will be able to understand exactly how content should be formatted.
9. Consider hiring an e-commerce SEO Expert.
If you're looking to boost your e-commerce SEO, consider hiring a Seo agency.
You may be tempted to handle the job yourself or simply ask around for advice, but it's important that you hire someone with extensive experience in this field.
The best way to find them is through word of mouth.
10. Stay up to date on Google's Product Feed Specifications & Policies
You're doing a great job of ranking well in Google. But you also need to stay up-to-date on the latest product feed specifications and policies in order to ensure that your e-commerce site is making the most of its search visibility.
Google changes its policies regularly, and it's important for you to keep up with those changes if you want your e-commerce store or website to continue being ranked well by Google.
If there's something that hasn't been changed recently but would be beneficial for your business (like removing certain products or adding others), then do some research first before implementing any updates.
11. Provide a Great User Experience
Create a good-looking and easy-to-navigate website with the best user experience.
The first thing that people do when they land on an e-commerce site is look at the product images, so make sure they reflect what's on offer!
Make sure there are plenty of high-quality images showing off the product in action (or even better still, in use).
You can also use video, if possible, but remember it needs good audio too! You may even want a sample video or two on YouTube that shows off different features of one particular item being sold by you.
Conclusion
Now that you know the basics of how to optimize your e-commerce site for search engines, it's time to get started on those strategies.
We've provided a set of recommendations for each step along the way and we hope this post has given you some insight into what tactics are most likely to be successful in your particular case.
If nothing else, these tips should help you avoid some common pitfalls and improve the overall user experience on your website!