Reviews
Acer Predator G9-793 Gaming Laptop Review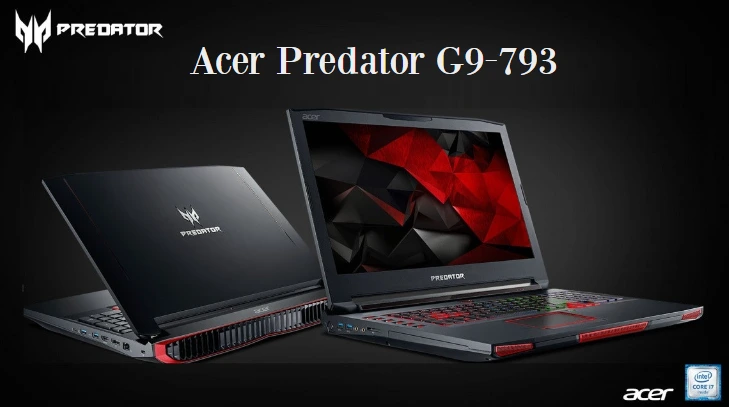 Acer has always been a top contender in the gaming laptop market, and the Acer Predator G9-793 is no exception.
This powerful machine comes packed with some of the best hardware available, making it perfect for gamers who demand the best performance.
So, is the Acer Predator G9-793 worth your money? Let's take a closer look and find out!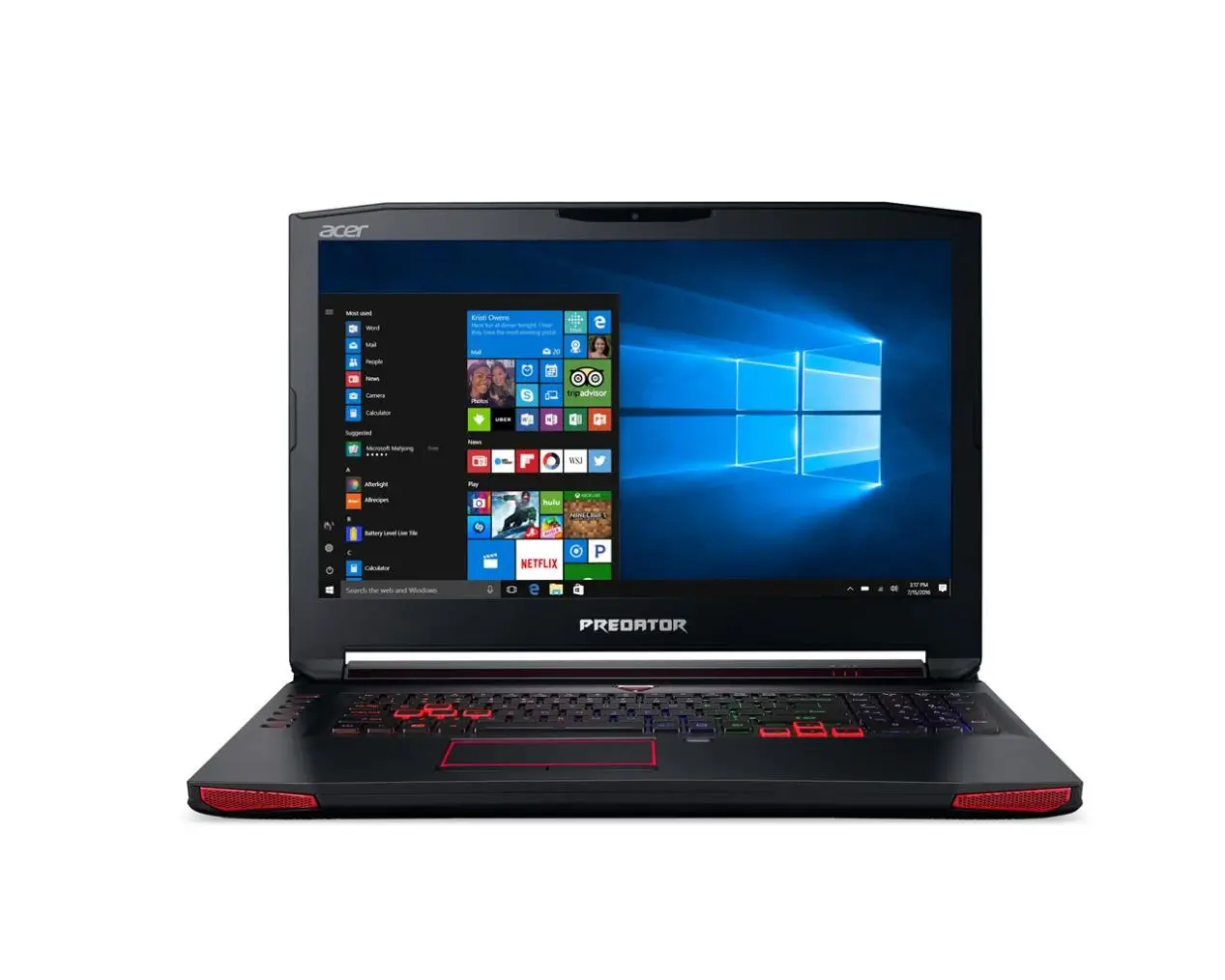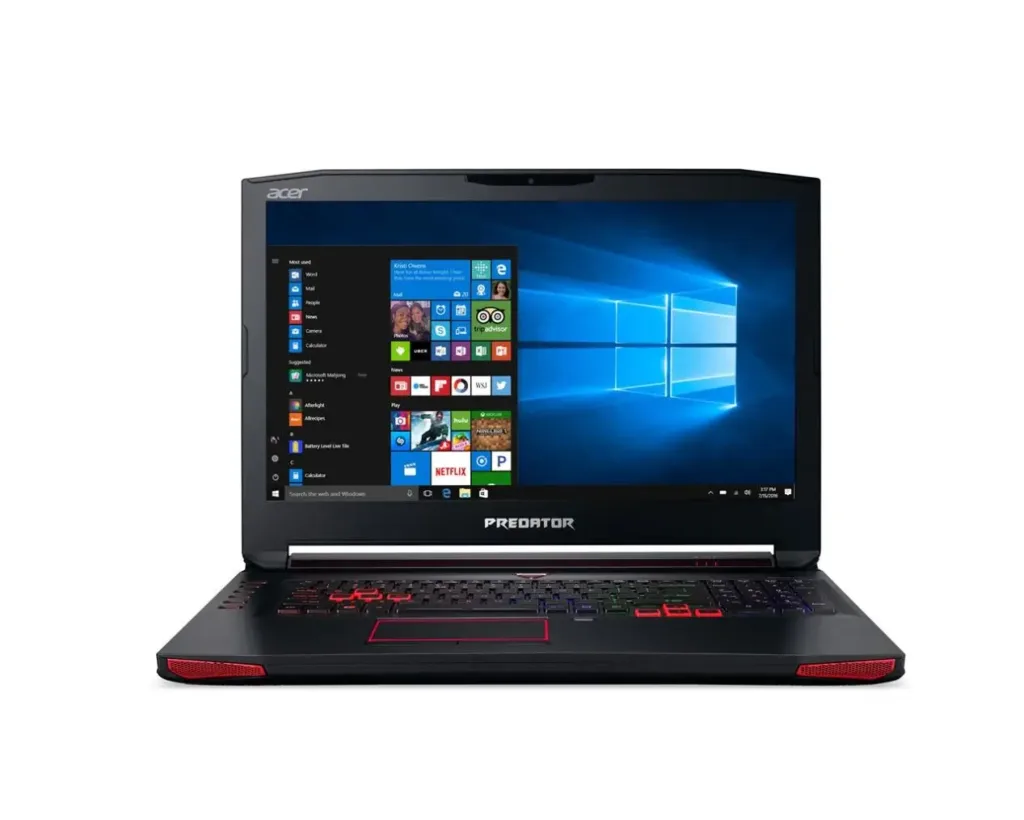 Acer Predator G9-793: Specifications
| | |
| --- | --- |
| Feature | Specification |
| Operating System | Windows 10 Home |
| Processor | Intel Core i7-6700HQ |
| Graphics Card | NVIDIA GeForce GTX 1070 |
| Memory | 32GB DDR4 |
| Storage | 512 GB NVMe SSD + 2 TB 2.5″ HDD |
| Display | 17.3″ Full HD IPS |
| Resolution | 3840 x 2160 |
| Refresh Rate | 60Hz |
| Touchscreen | No |
| Battery | 90 Wh |
| Connectivity | Wireless AC Qualcomm Atheros , Gigabit LAN, Bluetooth 4.1 |
| Ports | 4x USB 3.0, 1x USB 3.1 with Thunderbolt 3 support, HDMI, DisplayPort, mic, earphone, SD card reader, LAN |
| Weight | 9.36 lbs (4.52 kg) |
| Dimensions (WxDxH) | 16.65″ x 12.66″ x 1.64″ |
Acer Predator G9-793: Pros and Cons
Pros:
Good performance in daily use and gaming scenarios.
Solid build quality with a comfortable keyboard and touchpad.
Killer DoubleShot Pro technology for better networking control.
Cons:
Short battery life.
Pricey for the features offered.
Design and Build Quality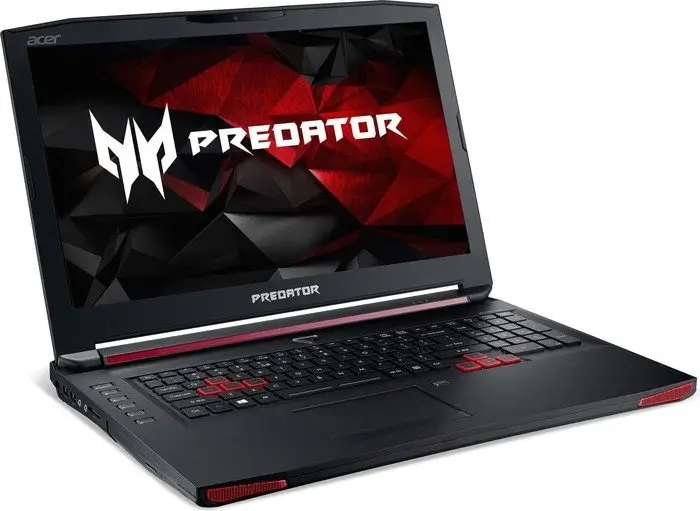 The Acer Predator G9-793 looks a lot like the predecessor with red accents on black surfaces and aggressive lines.
You'll find the Acer logo embedded in the hood, as well as on the back of the screen, plus an illuminated Power Button up top and two stripes integrated within the trackpad, which light up when you turn on certain features or when you plug in a power source.
There are no major changes to this design, just some minor details here and there (the F1-F12 keys now get icons instead of labels), so it really doesn't matter if you opt for this one or last year's model, as they look pretty much identical.
Build quality is also a highlight on this Predator, as it feels absolutely solid and well put together.
The inner frame is made from metal and reinforced plastic, while the outer shell is all plastic.
There's no creaking or flexing when you push on the hood or grasp its sides with your hands, but we still noticed some minor ripples on the screen lid when pressing harder.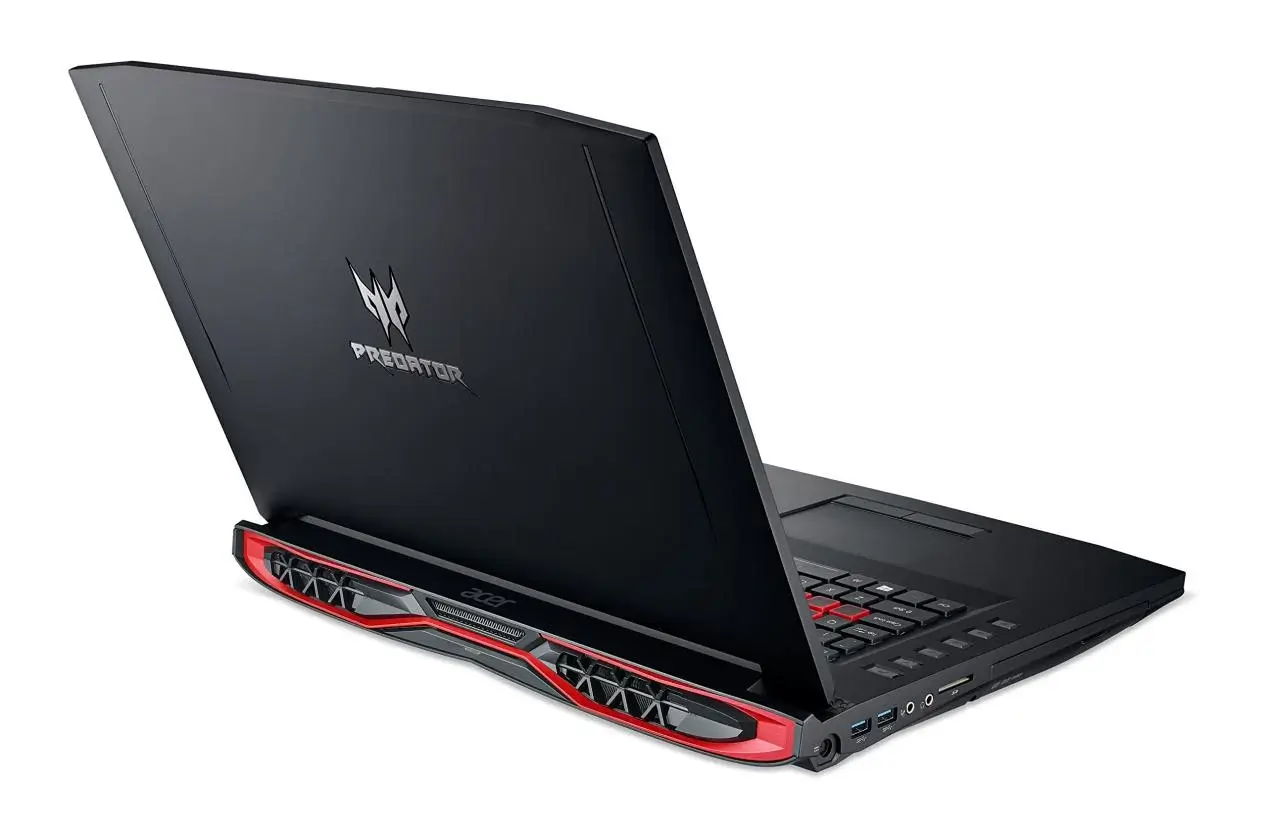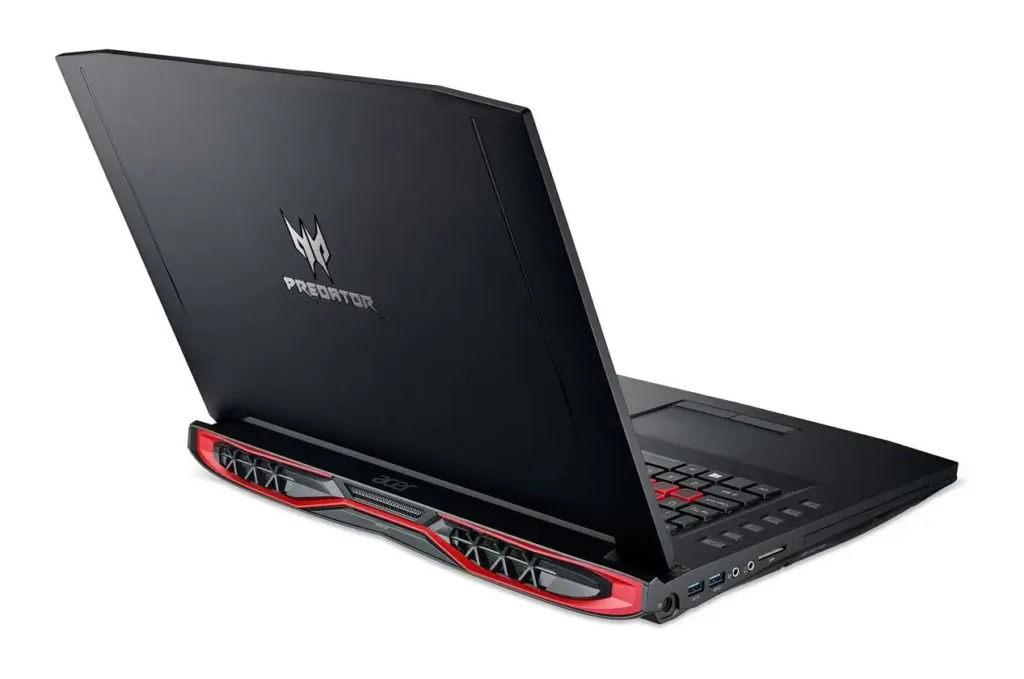 Hardware Performance
The Acer Predator G9-793 is built on Intel's Skylake hardware and it gets the Core i7-6700HQ processor, 32 GB of DDR4 RAM, an Nvidia GTX 1070 8GB graphics chip and two storage drives.
Overall performance of this 17.3-inch laptop is mostly good in daily use and multitasking scenarios, as our test model handles those tasks smoothly without any major hiccups.
We also noticed that this laptop runs cooler than its predecessor; however you'll still need to keep it on a hard, flat surface in order to get the best results.
Gaming performance is also good and you should expect smooth frame rates from any title available today, as long as you stick to Full HD resolution.
Temperatures do go up when playing demanding titles for longer periods of time, though noise levels stay within acceptable limits at all times.
Display and Audio
The Predator 17 G9-793 gets a matte 17.3-inch IPS panel, with 3840 x 2160 pixel resolution. It performs well for everyday use or for gaming/movies.
We're talking about a 1080p TN panel with good contrast ratio and very little backlight bleed, plus some impressive brightness levels of around 300 nits.
There are also some goodies sprinkled over this panel, such as the excellent color accuracy, gamma values of 2.2 (close to ideal) and wide viewing angles – all great attributes for an IPS screen.
As far as audio goes, Acer went with two stereo speakers placed above the keyboard, which perform quite nicely at maximum volume without distorting or getting too tinny.
There's also a 3.5mm jack and the laptop can output surround sound using the Dolby Audio app, but you should really get some external speakers or headphones for an improved audio experience.
Keyboard & Trackpad
The Acer Predator G9-793 gets a full-size keyboard with red backlighting, excellent feedback and travel – just like on its predecessor.
It's made by SteelSeries which helps boost its quality as well, plus there are special hotkeys integrated up top to control fan speed or access certain features in just one click.
It also features individual LED lighting behind each key, so you can customize the backlight intensity to your liking via the pre-installed Predator Sense app.
The layout is pretty standard and the NumPad is properly sized, with no cramped keys or unusual placements.
The trackpad on this Predator is also solid, as it's made from textured plastic and feels great to the touch.
It gets integrated mouse buttons at the top that are a bit stiff but still work without major issues, plus two stripes of LEDs located in between them, which light up when you plug in a power source or turn on certain features using the dedicated hotkeys up top.
Also Read: Is Acer Predator X25 bmiiprzx monitor really a beast?
Battery Life and Heat
The battery life of the Predator G9-793 is decent, but it's hindered by the dedicated GPU and Intel Core i7 processor.
With a GTX 1070 chip that always runs at its full potential regardless of what you do on the laptop, and no Intel HD 530 to fall back to in daily use, you can expect anywhere between two and four hours of autonomy on a charge, depending on your usage scenarios.
The 230 Wh power brick takes around 2 hours and 15 minutes to fully recharge the 90 Wh battery from 0% to 100%l.
As far as temperatures are concerned, Acer Predator G9-793 runs very cool in daily use. Even when under heavy load, thermals stay within comfortable levels and rarely exceed 45 degrees Celsius on both the internal components and external surfaces.
This means that it won't heat up your lap or burn your hands when touched during games sessions, but also that it won't be suitable for overclocking or further tweaking.
Acer Predator G9-793: Other Features
The Acer Predator G9-793 is packed with a bunch of features, although some are exclusive to the higher end SKUs.
DVD drive: The base model gets a DVD drive, as well as Gigabit LAN and Wireless AC networks.
Bluetooth: There's also Bluetooth 4.1 support once you update the wireless module to its latest version.
Killer DoubleShot Technology: One interesting addition however is the Killer DoubleShot Pro technology, which will allow certain applications or protocols to be directed towards either the Ethernet connection or the WiFi connection.
HD Webcam: The last addition is an HD Webcam placed at the top of the screen, which will be useful in video calls and other situations where one needs to take pictures or videos on short notice. It does a decent job as far as webcams go, although its quality won't really compete against that of a dedicated shooter.
Price & Availability
The Acer Predator G9-793 isn't the most affordable model out there either, since it starts at around $1300 for the entry level configuration (6th Gen i7 Processor).
It is available in $2100 with 16GB RAM, 256GB SSD, and 7th Gen Core i7 Processor.
You can buy this laptop from the followig stores online.
Final Verdict
The Predator G9-793 is a well built laptop that looks great and can handle most tasks without any major hiccups.
It also gets an array of features, such as the Killer DoubleShot Pro technology, or the HD Webcam, which add to its value.
However battery life isn't exactly great so you should keep that in mind before making your purchase.
All in all it's a good option for those wanting a powerful machine at home or on the go.