Laptops
Asus TUF FX705 Review – A Great Budget Gaming Laptop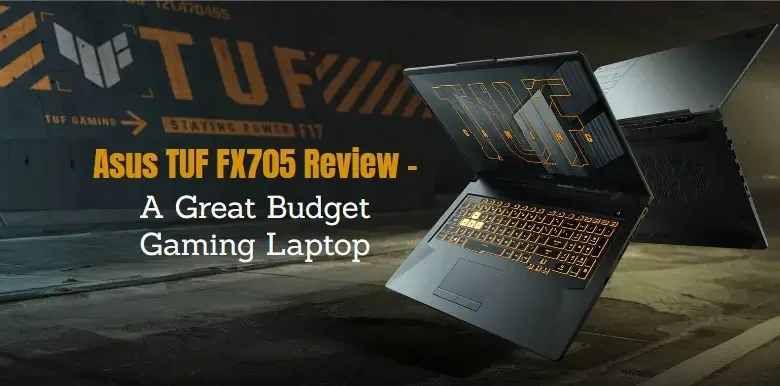 Are you in the market for a new gaming laptop? If so, you may be considering the Asus TUF FX705.
This machine has been getting a lot of buzz lately, and for good reason! It offers great performance and features at an affordable price.
In this article, we will take a closer look at the Asus TUF Gaming FX705 and see what it has to offer.
Asus TUF FX705: Design & Build Quality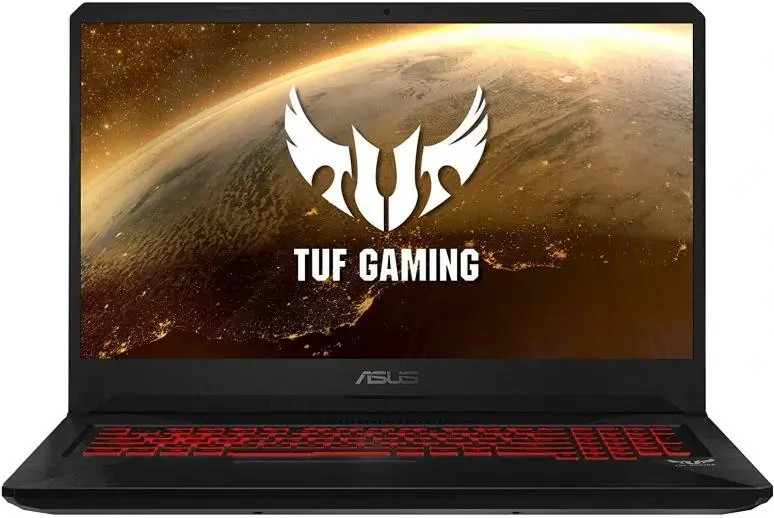 The Asus TUF FX705 gaming laptop is as tough as it looks. It features a rugged aluminum Gunmetal Grey or black plastic cover, with the iconic Radiating-X design and textured finish.
The laptop also has a hexagonal pattern on the underside that adds to its structural rigidity and modern lines.
Display and Graphics

The Asus TUF FX705 features a 17.3-inch, FHD (1920 x 1080) anti-glare display.
It has an IPS-level NanoEdge display with a 7.18mm bezel, giving you an ultra-immersive viewing experience.
The screen has a refresh rate of up to 144Hz and 100% sRGB color gamut as well as wide viewing angles for vivid colors regardless of your position.
The Nvidia GeForce GTX 1060 graphics card ensures smooth and detailed visuals as you play your favorite games.
Performance
The Asus TUF Gaming FX705 is powered by an Intel Core i7-8750H processor as well as 32GB of RAM, ensuring smooth and stable performance as you play the latest games.
The device also features a 1TB FireCuda SSHD storage drive for faster loading times as well as a range of connectivity options including USB Type-C and HDMI ports as well as Wi-Fi 5 and Bluetooth 4.2 support.
Gaming Performance
It packs a powerful punch as far as gaming performance is concerned.
It's powered by an 8th generation Intel Core i7-8750H processor, which offers speeds of up to 3.9GHz and six cores that are 23% more powerful than the previous generation.
It also features up to Nvidia GeForce GTX 1060 graphics for vivid visuals and super smooth gameplay as you take on your opponents.
Thermal Performance
The Asus TUF FX705 is equipped with the company's patented HyperCool technology to ensure exceptional cooling performance as you game.
This consists of an anti-dust cooling system as well as a fan overboost option and trapezoid cut lid for improved air flow.
With this technology, the laptop stays cool and retains its structural integrity during even the most intense gaming sessions.
Keyboard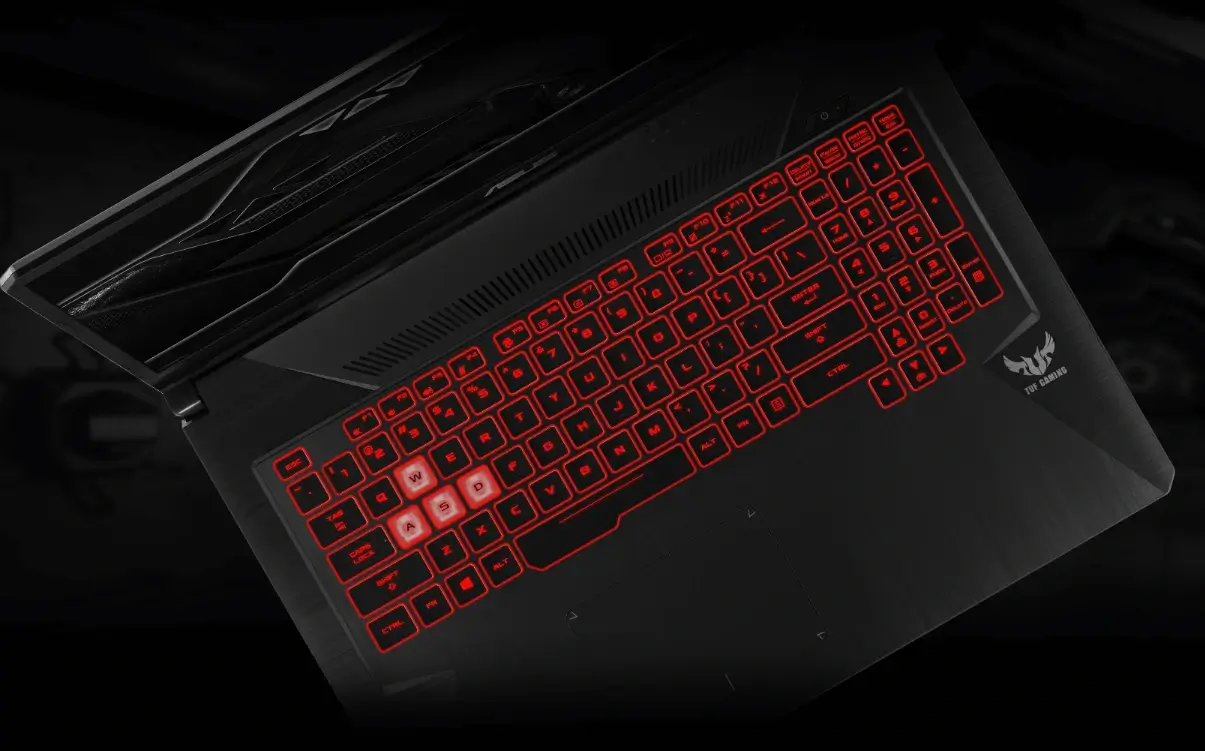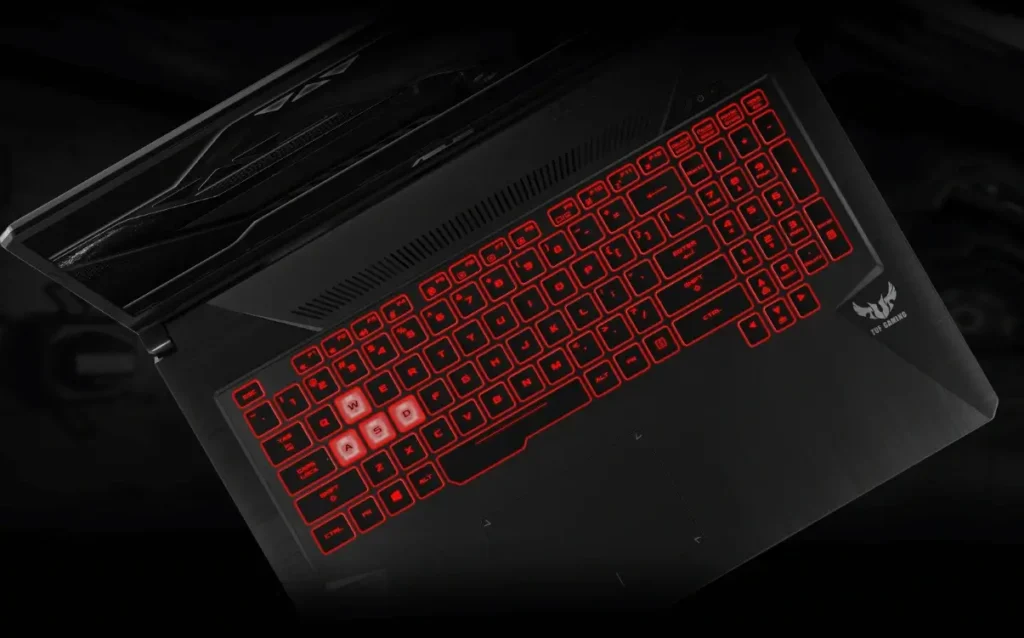 The Asus TUF FX705 also features a desktop-inspired RGB-backlit HyperStrike Keyboard.
This keyboard is optimized for gaming with an ergonomic layout and highlighted WASD key group as well as isolated arrow keys and recognizable gaps between the function keys.
The Overstroke technology registers your keystrokes faster for precise and effortless gaming.
Memory and Storage
Asus TUF Gaming FX705 offers plenty of memory and storage as well.
It is equipped with up to 16GB/32GB of dual-channel DDR4 2666MHz memory for improved performance and energy efficiency.
The 1TB 5400rpm FireCuda SSHD also loads games more than 2X faster than 5400rpm HDDs found in rival laptops, thanks to its flash memory that acts as a cache.
Connectivity
The Asus TUF FX705 also features a range of ports for connecting external devices as well as for transferring data.
It has one USB 2.0 and two USB 3.1 Gen 1 Type-A ports as well as an HDMI 2.0 port for connecting to external displays.
All ports are located on the left side of the laptop, keeping them out of the way during gaming sessions.
Battery Life
It comes with a 48Wh battery that offers up to 8 hours of web surfing as well as 6 hours of video playback.
Its fast-charge technology enables the device to be charged from 0% to 60% in just 49 minutes.
Asus TUF FX705 Specifications
| | |
| --- | --- |
| Details | Specifications |
| Processor | Intel Core i7-8750H processor |
| RAM | 16GB / 32GB DDR4 2666MHz memory |
| Storage | 512 GB SSD/ 1TB 5400rpm FireCuda SSHD |
| Display | 17.3", FHD (1920×1080) with IPS-level display |
| Graphics | NVIDIA GeForce GTX 1060 6GB GDDR5 VRAM graphics card |
| Keyboard | Backlit Chiclet Keyboard 1-Zone RGB |
| Connectivity | USB 2.0 + two USB 3.1 Gen 1 Type-A ports, as well as an HDMI 2.0 port and Wi-Fi 5 and Bluetooth 5.0 support |
| Battery Life | 64Wh, 4-cell Lion |
| Operating SystemWindows 10 Pro | Windows 10 |
| Dimensions (WxDxH) | 15.71″ x 10.98″ x 1.05″ |
| Weight | 2.70kg |
| Power Supply | 120W AC Adapter, Output: 19V DC, 6.3A, 120W; Input: 100-240V AC, 50/60Hz universal |
Price & Availability
The Asus TUF FX705 is available now, priced at $999.99 for the 16GB RAM and 512GB storage version as well as $1,049.99 for the 32GB RAM and 1TB storage version.
You can buy it form:
Pros and Cons
Pros
Powerful hardware
Strong performance
Durable build quality
Good battery life
Cons
Expensive price tag
No Thunderbolt 3 port
Final Verdict
The Asus TUF FX705 is a great choice as a gaming laptop.
It offers powerful hardware and strong performance, as well as a durable build quality that can handle the rigors of gaming.
It also has an impressive battery life as well as a range of ports for connecting external devices.
The only downside is the expensive price tag, but if you are looking for a reliable gaming laptop with good specs then this is certainly worth considering.