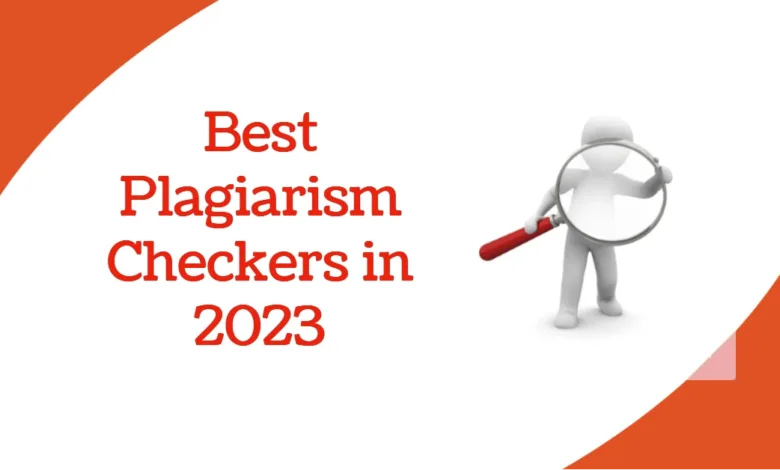 Plagiarism is a serious issue that can damage your reputation and credibility as a writer or a student.
With the vast amount of information available on the internet, it's becoming increasingly easy for people to accidentally or intentionally copy content without proper attribution.
However, using a plagiarism checker tool can help you detect and prevent any instances of plagiarism in your work.
In this blog post, we will discuss the best plagiarism checkers that can provide accurate and reliable results to ensure your work is original and unique.
Whether you're a student, a writer, or a researcher, these tools will help you avoid any issues related to plagiarism and maintain the integrity of your work.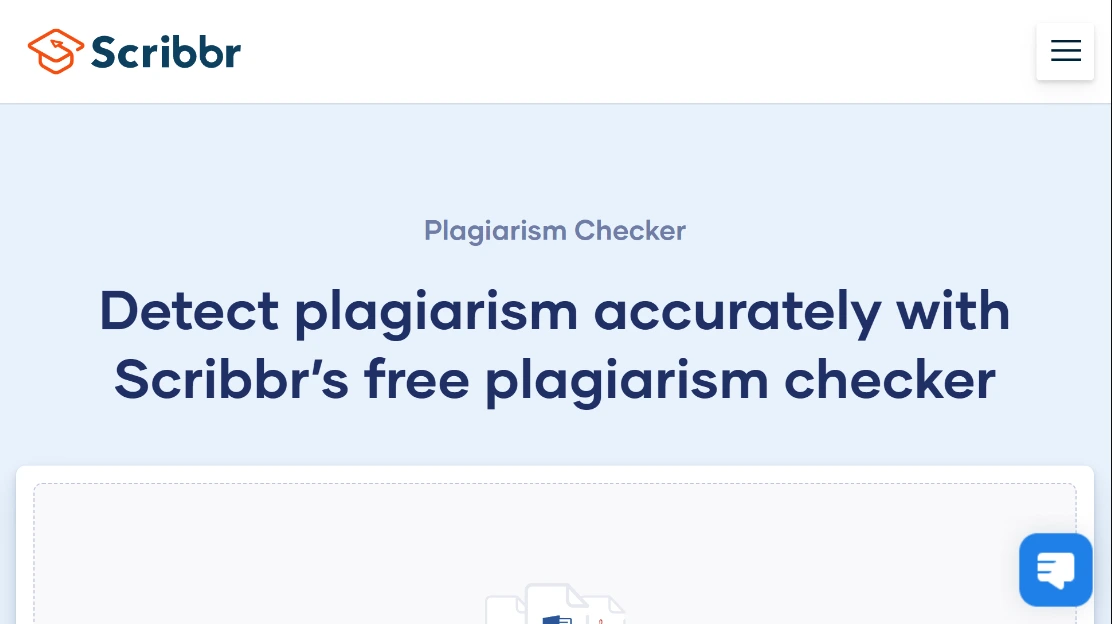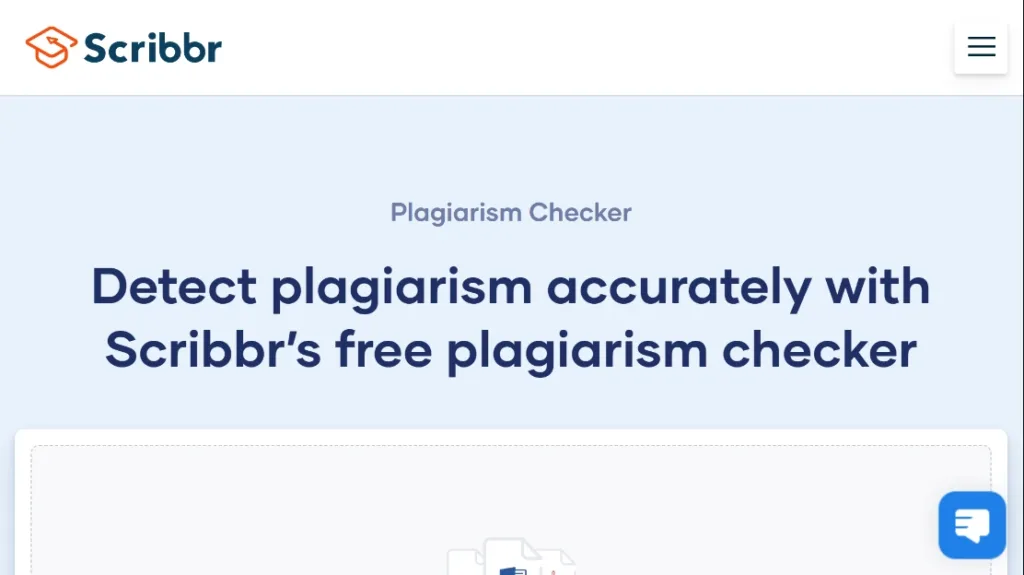 The best and most powerful plagiarism checker in the industry is Scribbr. Nowadays, its demand is increasing continuously due to its convenience in work.
It has the ability to catch even minor plagiarism in only one check. It will check your content so accurately that a single plagiarized sentence can be caught at a moment.
If we talk about the matches report of Scribbr Checker. We tested it for a long time. All the time it worked very well in all aspects. In our attempt at testing, it caught a single sentence from our provided content that was really plagiarized.
The User Interface of this tool is also very interesting. It is very easy to use. Its free Citation Generation makes it easy for the users to assess each plagiarism issue separately.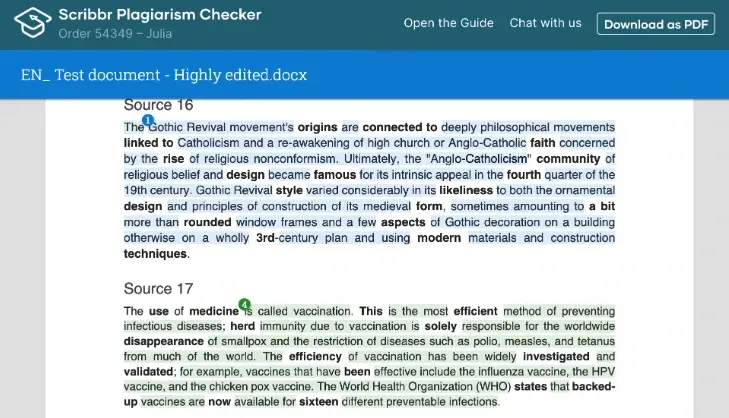 in the above illustration, you can see how it catches each plagiarized content brilliantly. However, it's all working is so smooth and mesmerizing.
If we come to point of trusting this tool for unique content. We like to give them a total of 4.5 stars out of 5. Because they pledge to give you unique content and they proved this statement in our test.
So, you can trust them for unique and quality content.
Besides, its trustworthiness and quality of work, if we consider their pricing. The price range is relatively high than other tools.
Price:
| | |
| --- | --- |
| Small document (Up to 7,499 words) | $19.95 |
| Regular document (7,500 – 49,999 words) | $29.95 |
| Large document (50,000+ words) | $39.95 |
Let us discuss some pros and cons of this checker tool.
Pros:
It has a huge content database.
It also supports external resources.
It provides the users with a Citation Checking feature.
It offers a limited free version.
It doesn't save or sell your documents.
Cons:
Really high pricing.
It cannot work directly in the tool.
It is also not suitable for larger organizations.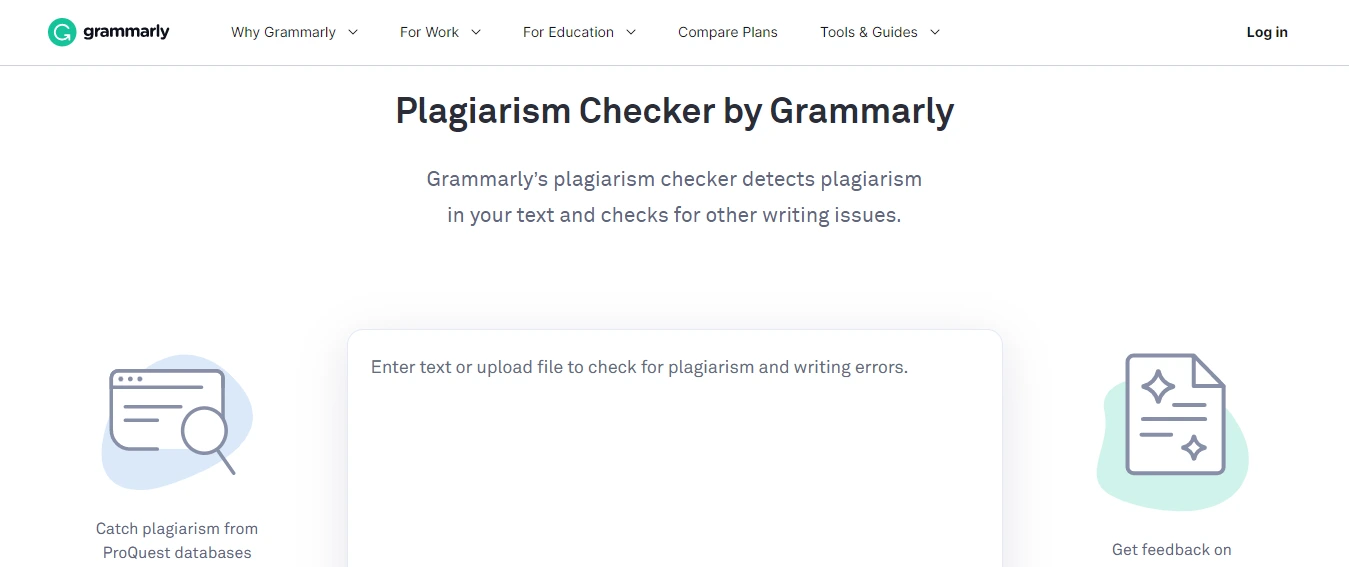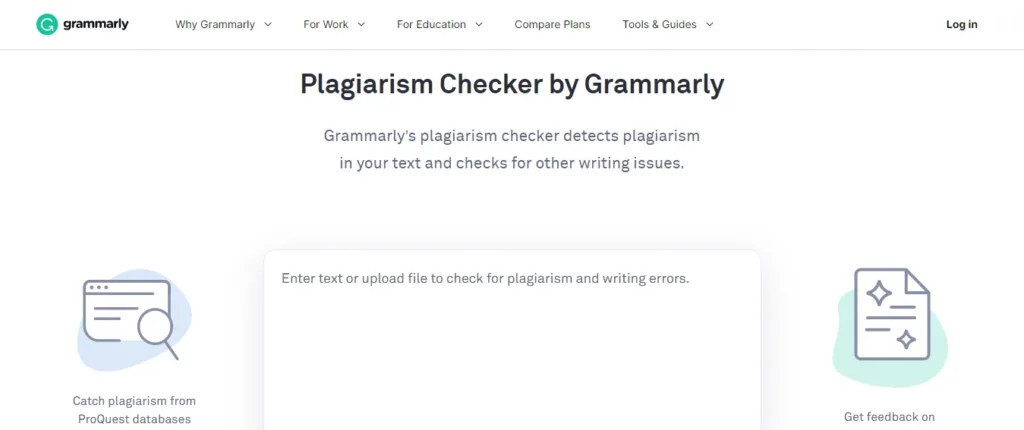 Basically, Grammarly is known as the correction tool that helps you to make your content unique by taking care of punctuation, spelling, grammar, and much other stuff.
But now it is also taking steps in plagiarism checking and launched its own plagiarism checking tool.
During the beginning days of Grammarly's plagiarism checker, there were a lot of bugs in it. As time passes, they worked on it and remove all the errors.
Now, it is capable of spotting any plagiarized content. Still, officials are working on it to make it perfect for their audience.
The quality of matches is also pretty good here. If you want to check your regular content here. It will work properly for that type of content.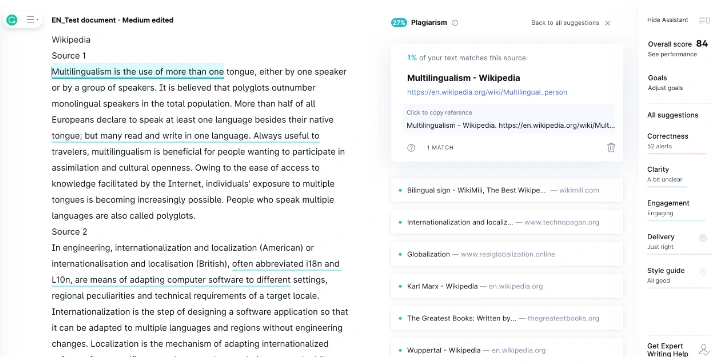 In case, if you want to work on the heavily-edited text you will see some bugs here. It is because it is not capable at this moment to spot copied content in heavily-edited texts. Overall, performance is good for checking whether the content is copied or not.
The usage is also very simple and quite easy for beginners. If we talk about trusting this tool for unique content. We will give 4 out of 5 stars in case of trust. It is because still there are some bugs often occurring here. For simple content and texts, you can easily trust them.
Price:
There are about two different purchase packs available in Grammarly. One is the monthly plan ($30 per month) and the other is the yearly plan ($12 per month).
For both plans, there is a character limit of about 100,000 words.
Let us take a quick look at the pros and cons.
Read Also: How To Develop Your E-commerce Business in 2023?
Pros:
It offers you a citation helper that helps you to add missing citations.
It can detect most plagiarism.
There are multiple options available here.
It is easy to use and has loads of language features.
Cons:
It doesn't work well with scholarly sources.
There are also some false positives.
There are very less features in the free version.
There is no live support here.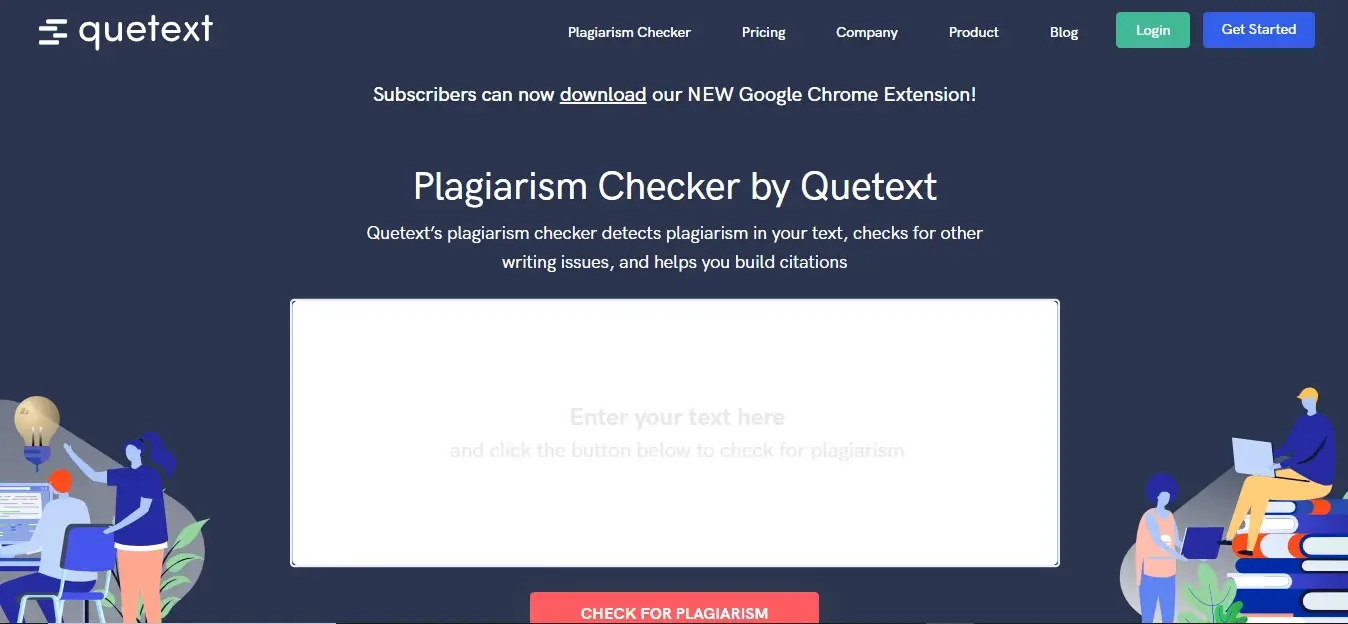 The best one plagiarism checker in the competition is Quetext. It detects most of the plagiarism so far.
Quetext officials claim that the website checks against academic resources and web pages. During our test session, we were feeling some interruptions here. This happening lead their claim to false positive.
It detects the copied text very easily with no effort a short time. But the content analyzing quality is a little bit low. Sometimes it catches the highly-edited content and sometimes it fails in this regard.
Overall, plagiarism detection by this tool is well and good.
If we talk about trusting this tool from the business point of view or from any other field. We would like to give it 4.3 out of 5 stars to it.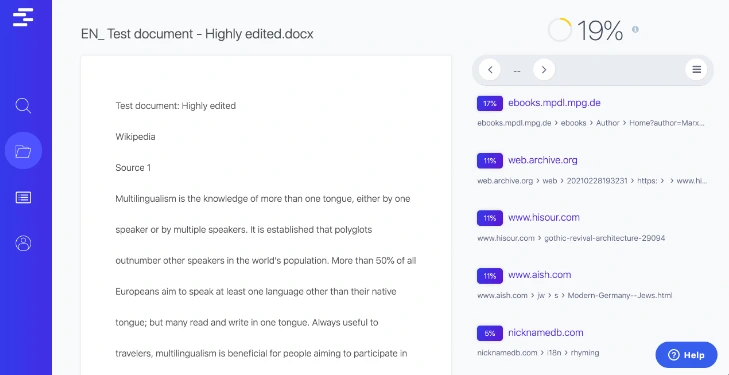 You can consider it for your education or any other scholarly process. It can prove a good tool for an individual person. However, for teamwork or an organization, it is not suitable.
Time to talk about the price packages they are providing to their audience.
Price:
In the free trial, you will 2500 free words. After using that word count, you have to pay $9.95 per month for later use.
Now, let us move to the pros and cons section of Quetext.
Pros:
It can not store or sale your documents.
It is able to detect most of the plagiarism.
Multiple support options are also available.
Citation assistant is also available for your help.
Cons:
There are false positives here.
There is no live support available.
When it catches some copy content, it attaches to multiple places sometimes.
All in all
All three plagiarism checkers – Scribbr, Grammarly, and Quetext have their strengths and weaknesses.
Scribbr offers the most powerful and accurate detection with an easy-to-use interface and citation generation feature but has a high price range.
Grammarly is known for its language features, offers a citation helper, and has multiple purchase options but can have false positives and is not suitable for heavily-edited text.
Quetext detects most plagiarism and offers citation assistance and various support options but can have false positives and has no live support.
Each of these tools can be trusted for unique content, but it is important to choose the right one based on your needs and preferences.