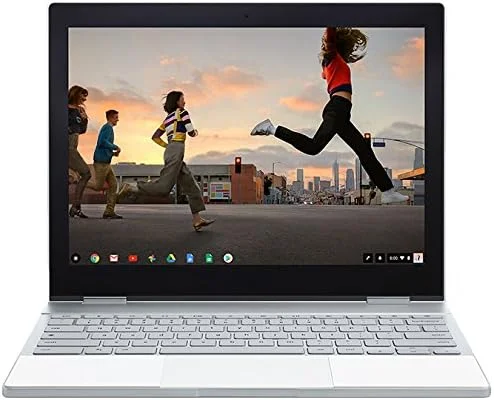 Are you in the market for a high-performance Chromebook? If so, the Google Pixelbook i7 might be just what you're looking for.
With its powerful processor, stunning display, and versatile design, this laptop is a top-of-the-line option for anyone who needs a reliable machine for work or play.
In this blog post, we will review the Google Pixelbook i7. We will discuss its specifications, performance, display, design, battery life, price, and all other features.
Google Pixel Book i7 Price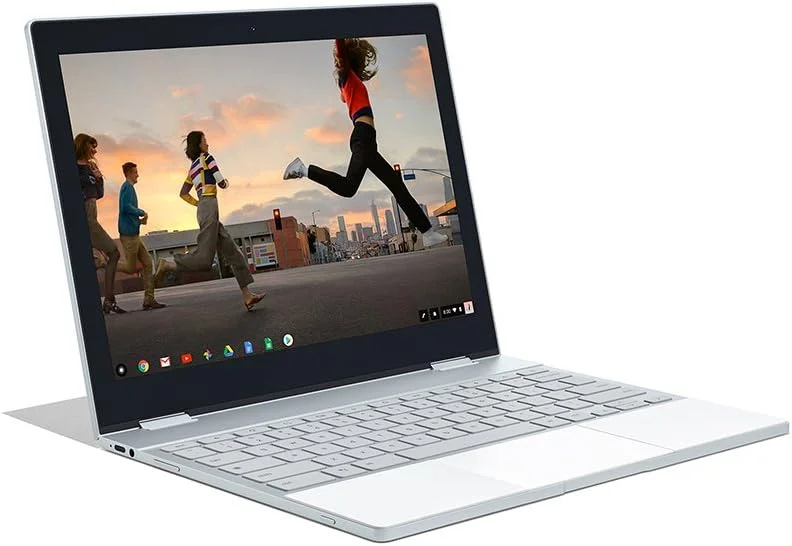 The base model of the Pixelbook i7 starts at around $1,199, which is definitely a steep price.
Pros and cons
Pros:
High Performance
Premium Build
Chrome OS
Android App Support
Long Battery Life
Cons:
High Price
Limited Software Compatibility
Offline Limitations
Gaming and Resource-Intensive Tasks:
Google Pixelbook i7 Specification
| | |
| --- | --- |
| Category | Specification |
| Processor | Intel Core i7 (8th Gen) |
| CPU Cores | Quad-core |
| CPU Speed | 1.3 GHz (base) – 3.6 GHz (max) |
| Cache | 8 MB SmartCache |
| Memory | 16 GB or 32 GB LPDDR3 RAM |
| Storage | 256 GB / 512 GB / 1 TB NVMe SSD |
| Graphics | Integrated Intel HD Graphics 615 |
| Display | 12.3-inch Quad HD LCD Touchscreen |
| Resolution | 2400 x 1600 pixels |
| Aspect Ratio | 3:2 |
| Pen Support | Pixelbook Pen compatible (sold separately) |
| Audio | Dual speakers, 3.5mm headphone jack |
| Connectivity | Wi-Fi 802.11a/b/g/n/ac, Bluetooth 4.2 |
| Ports | 2 x USB-C, 1 x USB-A, 3.5mm audio jack |
| Battery | Up to 10 hours of typical usage |
| Operating System | Chrome OS |
| Dimensions | 11.4″ x 8.7″ x 0.4″ (290.4 mm x 220.8 mm x 10.3 mm) |
| Weight | 2.45 lbs. (1.11 kg) |
Design and Build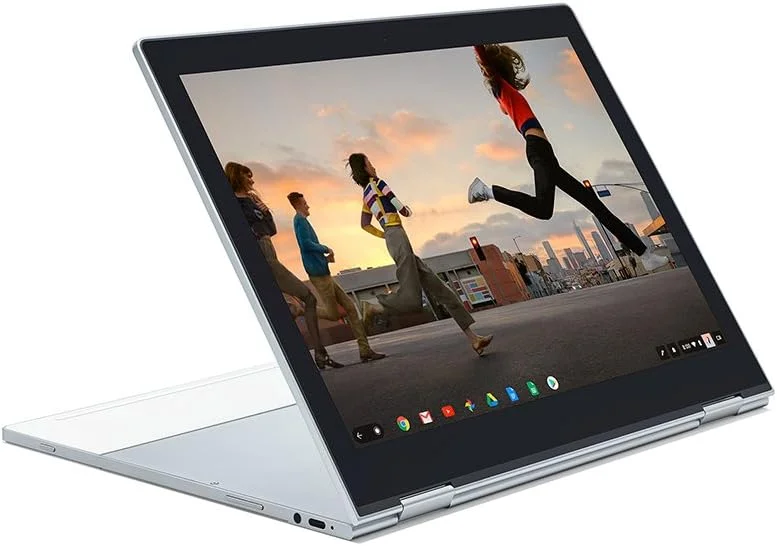 Google Pixelbook i7 is a sleek and stylish device that is sure to turn heads.
Let's take a closer look at the materials and durability, as well as the portability and comfort of the device.
Materials and Durability
Google Pixelbook i7 is made of high-quality materials that ensure its durability.
The chassis is made of aluminum, which not only gives the device a premium look but also makes it sturdy enough to withstand everyday use.
The lid of the device has a glass panel that adds a touch of class to the device.
The device has also undergone rigorous testing to ensure its durability.
It has been tested to withstand drops, spills, and other accidents that can occur in everyday use.
The device is also easy to clean and maintain, making it a great choice for people who are always on the go.
Portability and Comfort

The Google Pixelbook i7 is a highly portable device that is easy to carry around.
It has a slim profile that makes it easy to slip into a bag or backpack.
The device also weighs just 2.45 pounds, making it one of the lightest Chromebooks on the market.
The device also has a comfortable keyboard and touchpad that make it easy to use for extended periods.
Performance
Google Pixelbook i7 is a high-end Chromebook that boasts impressive performance capabilities.
A 7th-generation Intel Core i7 processor powers the device, which is a significant upgrade from the previous model.
The processor is paired with 16GB of RAM, which makes multitasking a breeze.
This laptop comes with a 512GB SSD, which means you'll have plenty of space to store all your files and applications.
The SSD also contributes to the device's fast boot and load times, so you won't have to wait long to get started.
This laptop comes with an integrated Intel HD Graphics 615 GPU.
The battery life of this laptop is also impressive.
This laptop can last up to 10 hours on a single charge, which is more than enough for a full day of work or school.
Display Quality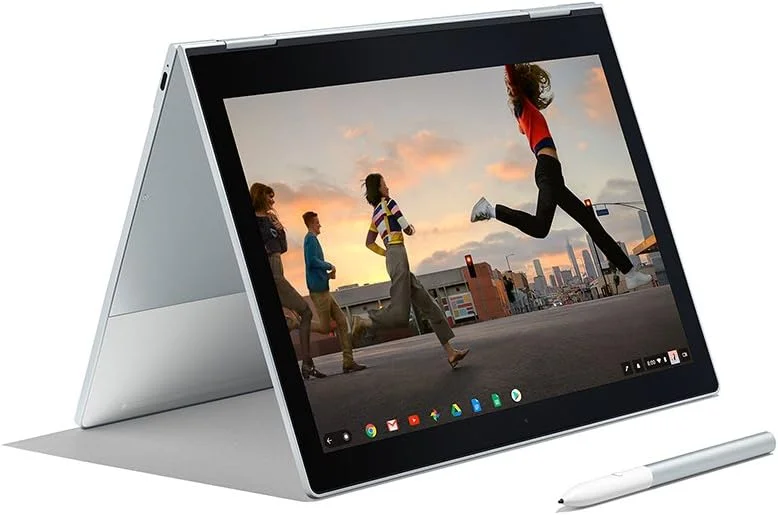 The Google Pixelbook i7 has a 12.3-inch touchscreen display with a resolution of 2400 x 1600 pixels.
The display quality is impressive, with accurate colors and sharp details.
The screen is also bright, making it easy to use in bright environments.
The display supports stylus input, which is great for taking notes or drawing.
The Pixelbook Pen is sold separately, but it's worth the investment if you plan on using the stylus frequently.
The pen is pressure-sensitive and has low latency, providing a smooth and natural writing experience.
The Pixelbook i7's display also has a 360-degree hinge, which allows you to use the device in different modes, such as tablet mode, tent mode, or stand mode.
The hinge is sturdy and holds the device securely in each mode.
Noise and Cooling Levels
The Google Pixelbook i7 has a fanless design, which means it operates silently.
This is a great feature for those who prefer a quiet working environment.
It also means that the device may get hot when performing intensive tasks such as video editing or gaming.
This system is effective at keeping temperatures under control, but it may not be sufficient for prolonged use under heavy loads.
This laptop remained cool and quiet during use such as web browsing and word processing.
When running benchmark tests or playing games, the device did get warm to the touch and the fanless design meant that there was no audible feedback to indicate that the device was working hard.
Battery Life
The Google Pixelbook i7 is a mixed bag. On the one hand, it has a decent battery life, but on the other hand, it's not as good as some of its competitors.
We tested this laptop lasted for 7 hours and 40 minutes on a single charge.
While this is not bad, it's not as good as some other premium laptops on the market.
This laptop have also saver mode that can help you extend your battery life by reducing the performance of your laptop.
Software and Features
Operating System
The Google Pixelbook i7 runs on Chrome OS, which is a lightweight and fast operating system developed by Google.
Chrome OS is based on the Linux kernel and is designed to work with web applications and cloud computing.
It is optimized for Google's suite of web-based applications, including Gmail, Google Docs, and Google Drive. The operating system is easy to use and has a simple interface.
It also has built-in virus protection and automatic updates, making it a secure and hassle-free operating system.
Pre-installed Applications
The Google Pixelbook i7 comes with a number of pre-installed applications that are designed to work seamlessly with the Chrome OS.
These applications include:
Google Chrome
Google Drive
Google Play Store
Google Assistant
Google Photos
The Pixelbook i7 also supports Linux applications, which can be installed from the built-in Linux terminal.
This feature allows users to run a wide range of Linux applications on their Pixelbook, expanding the device's capabilities beyond what is available on the Chrome OS.
Audio Quality
The laptop has two speakers located on the bottom of the device, which can produce sound that is loud enough for personal use.
The audio lacks depth and clarity, especially when compared to laptops with better speakers.
If you are an audiophile or someone who values high-quality audio, you may be disappointed with this laptop's audio performance.
It has a headphone jack, which allows you to connect external speakers or headphones for a better audio experience.
If you plan to use the laptop for music production or other audio-intensive tasks, we recommend investing in a good pair of headphones or external speakers.
Connectivity and Ports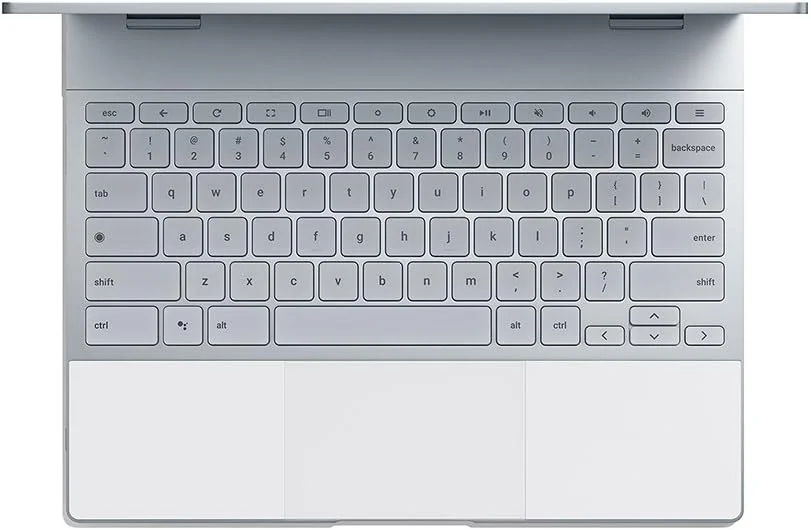 Wireless Connectivity
The Google Pixelbook i7 comes with both Wi-Fi and Bluetooth connectivity.
The Wi-Fi is 802.11 a/b/g/n/ac, which means that it supports both 2.4GHz and 5GHz bands.
This makes it easy to connect to the internet, even in areas with a weak signal.
Bluetooth 4.2 is available, which allows you to connect to other devices wirelessly, such as a mouse or headphones.
Read Also: Best 240Hz Laptops To Buy In 2023
Available Ports
There are two USB-C ports, which can be used to charge the laptop, transfer data, and connect to other devices.
These ports are also compatible with Thunderbolt 3, which means that you can connect to a range of peripherals, including external displays, hard drives, and more.
There is also a headphone jack, which is a welcome addition for those who prefer to use wired headphones.
This port is especially useful if you need to use headphones for work or if you want to listen to music without disturbing others.
User Reviews
Here are some user reviews for the Google Pixelbook i7:
"This is the best Chromebook I have ever used. The speed and performance are outstanding, and the design is sleek and modern. The battery life is also impressive, lasting me through a full day of work without needing a charge." – John D via Amazon.
"I was hesitant about spending this much money on a Chromebook, but I'm so glad I did. The Pixelbook i7 is worth every penny. It's lightning-fast, the display is beautiful, and the keyboard is comfortable to type on. I highly recommend it." – Sarah L via eBay.
Read Also: Dell Vostro 15 3583 Review
Summing up
The Google Pixelbook i7 is definitely worth considering.
With its impressive hardware specs, stunning design, and intuitive software, this device is a top-of-the-line option that can compete with the most high-end Windows and Mac devices.
One of the standout features of the Pixelbook i7 is its 7th Gen Intel Core i7 processor, which delivers lightning-fast performance for even the most demanding tasks.
This high-resolution display is perfect for watching movies, browsing the web, or getting work done, and it's also protected by Corning Gorilla Glass for added durability.
Of course, this laptop is not cheap, and it may be out of reach for some users. But, it brings much-needed value to the table.